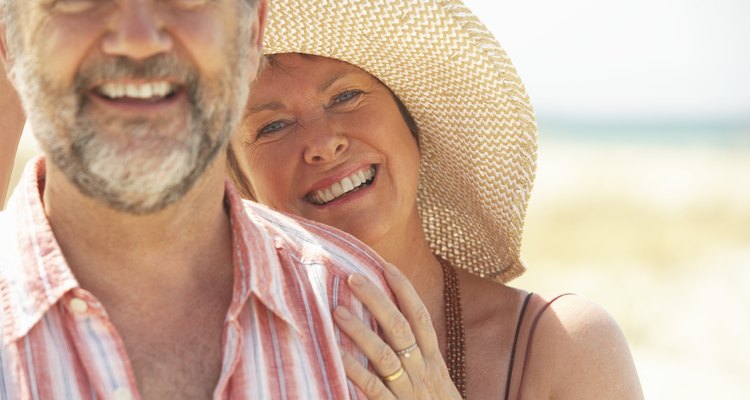 Christopher Robbins/Digital Vision/Getty Images
If you have thinning hair, sunscreen is essential, says dermatologist Rachel Herschenfeld in "The Washington Post." The skin on your scalp needs protection from the sun just like the rest of your skin, says Herschenfeld -- especially since it can be hard to check your scalp for moles and other signs of sun damage.
Function
Most people don't think about hair when they think about applying sunscreen, but your scalp is susceptible to sun damage -- and even more so if you have thinning hair, says Jessica Wu, a Los Angeles dermatologist, in "Good Housekeeping" magazine. Wu says you definitely need sunscreen to protect your scalp from damage if you have thinning hair, and if you have very thin hair or bald patches, a protective hat is a good idea too.
Time Frame
The sun can damage the skin on your scalp in as little as 15 minutes if it's unprotected, according to the Centers for Disease Control and Prevention. To protect your scalp, you'll need to apply sunscreen 30 minutes before going out in the sun and after every two hours of outdoor time. If you're swimming, exercising or participating in any activity that makes your hair and head wet, you'll need to reapply sunscreen to your scalp more frequently. Be especially vigilant about applying sunscreen between 10 a.m. and 4 p.m., when the sun is at its hottest.
Benefits
In addition to protecting your scalp from sun damage, hair sunscreen may help protect your remaining hair from loss-causing breakage and prevent premature graying, says dermatologist Jeannette Graf in "Allure" magazine's Daily Beauty Reporter Blog. Sun damage can also fade your hair color, increase split ends and create frizz, all problems that are exacerbated by thinning hair.
Expert Insight
An oil-free, spray-in sunscreen is your best option for your hair -- it will protect your hair without adding gunk, explains Graf. She recommends Goldwell's Dual Senses Sun Reflects Leave-in Protect Spray and Redken's Color Extend Sun Solar Screen SPF 12 as good options. Wu recommends Nioxin Scalp Shield Sunblock SPF 20, and in "Fitness" magazine, hairstylist Jet Rhys, owner of two San Diego salons, recommends Alterna Hemp Organics Sun Recovery Spray.
Warning
If you end up with a sunburned scalp despite your best efforts to prevent it, take a pain reliever and soothe your scalp with a cool shower, recommends Herschenfeld. If your burn is painful, you can use an aloe gel on your scalp, but keep in mind that it will make your hair sticky. Be gentle when you're brushing or styling your hair with a sunburned scalp, and use a moisturizing shampoo and conditioner to minimize flaking. If your scalp is very irritated, see a dermatologist.
References
Writer Bio
Holly Roberts is an award-winning health and fitness writer whose work has appeared in health, lifestyle and fitness magazines. Roberts has also worked as an editor for health association publications and medical journals. She has been a professional writer for more than 10 years and holds a B.A. in English and an M.A. in literature.
Photo Credits
Christopher Robbins/Digital Vision/Getty Images