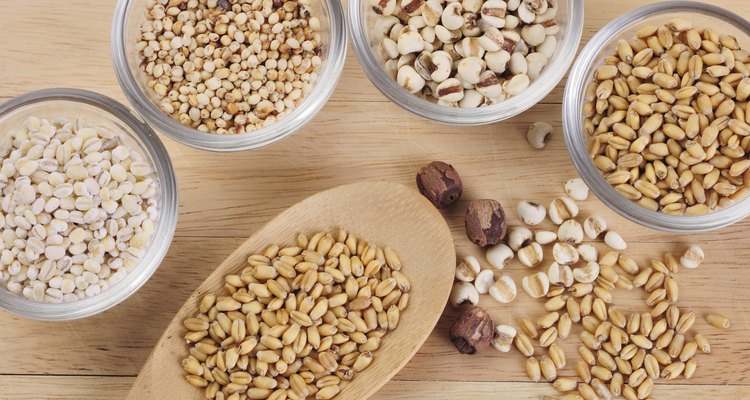 nujimomo/iStock/Getty Images
Kashi is a food manufacturing company which prides itself on its ability to offer healthy food products. Many of Kashi's products are organic or contain naturally beneficial ingredients. Among its products, Kashi offers a variety of cereals. Understanding their ingredients and benefits can help you to determine whether they are healthy.
Significance
Cereal is a convenient breakfast food. However, many cereals contain significant amounts of unhealthy ingredients that can negatively affect your diet and ultimately your health. It's important to read cereal labels to assess the ingredients included.
Types
Kashi offers 28 types of cereal including four types of hot cereal and 24 types of cold cereal. The GOLEAN products are the most commonly consumed of all the Kashi cereal products. The GOLEAN variety contains seven types of whole grains as well as fiber and protein, which help to keep you full. There are two varieties of hot cereal: GOLEAN and Heart to Heart. The cold cereal products are divided into 11 groups: GOLEAN, Good Friends, Heart to Heart, Kashi 7 Whole Grains, Kashi Granola, Kashi Honey Sunshine, Kashi U, Kashi Vive Probiotic Digestive Wellness, Kashi Whole Wheat Biscuits, Mighty Bites and Strawberry Fields.
Flavor Variations
The GOLEAN hot cereal is available in two flavors, Creamy Truly Vanilla and Heart Honey Cinnamon. Their ingredients differ slightly but their nutritional information is similar. The GOLEAN cold cereal is available in four flavors: Crisp! Toasted Berry Crumble, Crunch!, Crunch! Honey Almond Flax and Original. The Original flavor is the healthiest of the flavors.
Features
The hot cereals are available in individual packets. Each box of hot cereal contains eight packets. The recommended serving size for the hot cereal is one packet. Each prepared packet of hot cereal contains 150 calories with 2 g of total fat. The hot cereal also contains 5 g of dietary fiber, 7 g of sugar and 8 g of protein. The recommended serving size for the Original flavor of the GOLEAN cold cereal is 1 cup. Each serving contains 140 calories but only 1 g of total fat. In addition, it contains 10 g of dietary fiber including 8 g of whole grains, 6 g of sugar and 13 g of protein.
Considerations
According to the Mayo Clinic, a healthy breakfast cereal contains approximately 120 calories, a minimum of 3 g of fiber and less than 13 g of sugar per serving. Based on these recommendations, the hot and cold cereals are generally considered healthy breakfast cereals. Although they contain slightly higher concentrations of calories, fiber and sugar, they also provide significant amounts of healthy substances such as whole grains and protein which contribute positively to your overall health.
References
Writer Bio
Shemiah Williams has been writing for various websites since 2009 and also writes for "Parle Magazine." She holds a bachelor's degree in business and technology and a master's degree in clinical psychology. Williams serves as a subject matter expert in many areas of health, relationships and professional development.
Photo Credits
nujimomo/iStock/Getty Images