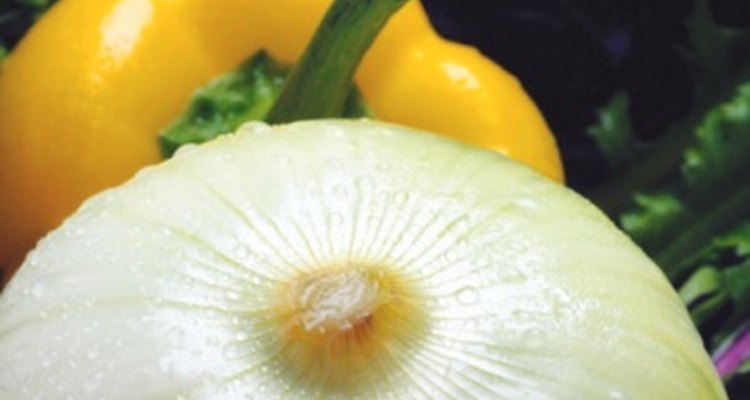 Jupiterimages/Photos.com/Getty Images
Pepper steak with onions is one of the most healthful options on a Chinese food menu, whether it is homemade or take-out. Mix it with brown rice for a tasty, nutritious meal.
Ingredients
The main ingredient in Chinese pepper steak is sirloin steak. This lean cut of meat is sliced into thin strips and then cooked in a wok or a large skillet with oil, salt and pepper. Onions, green peppers and garlic are then cooked until they are tender and join the beef in a flavorful sauce made of beef broth, soy sauce, rice vinegar, stewed tomatoes and Chinese five-spice powder. This meal is typically served over rice.
Calories
The homemade pepper steak recipe from Family Circle Magazine includes the listed ingredients and provides 351 calories per serving as well as 8 g fat, 42 g carbohydrate, 28 g protein and 5 g fiber. Restaurant-style pepper steak is similar in nutritional makeup to the at-home variety. The Pepper Steak Lunch Bowl at PF Chang's, when served with brown rice, provides 395 calories, 13 g fat, 47 g carbs, 22 g protein and 3 g fiber.
Considerations
When eating at a restaurant, be mindful of portion sizes. The Pepper Steak Lunch Bowl provides two servings per bowl. Restaurant meals may also be high in sodium. The PF Chang's lunch bowl has 1,225 mg of sodium. The Family Circle recipe promotes using low-sodium options and has 685 mg.
References
Writer Bio
A certified personal trainer, Christie Morton has been writing health and fitness articles since 2004. Her work has appeared in "Cincinnati City Beat" newspaper, "Employee Services Management Magazine" and numerous online publications on topics including diet, nutrition, fitness and spirituality. Morton holds a Bachelor of Arts in communication arts from the College of Mount St. Joseph.
Photo Credits
Jupiterimages/Photos.com/Getty Images