Chris Zainal/Demand Media
Whether you are wearing a wig because of hair loss or you simply want to have fun with a new hairstyle, learn techniques for putting on and styling your wig. Experiment with styles and seek the help of experts. A well-styled and proper fitting wig looks so natural that no one will guess that it is not your real hair.
Chris Zainal/Demand Media
Visit a hairstylist who specializes in wigs for a fitting and haircut. Wear your wig while it's cut and styled for the first time to ensure that the haircut and style best suits your face shape.
Chris Zainal/Demand Media
Wear a wig cap under your wig if you have long hair; a cap compresses hair so that it does not look bulky under the wig.
Chris Zainal/Demand Media
Adjust your wig after you have put it on so that it sits on your head correctly. Line up the center part of the wig with the center of your forehead. Pull the wig down completely in the back, so that it fits correctly on your head.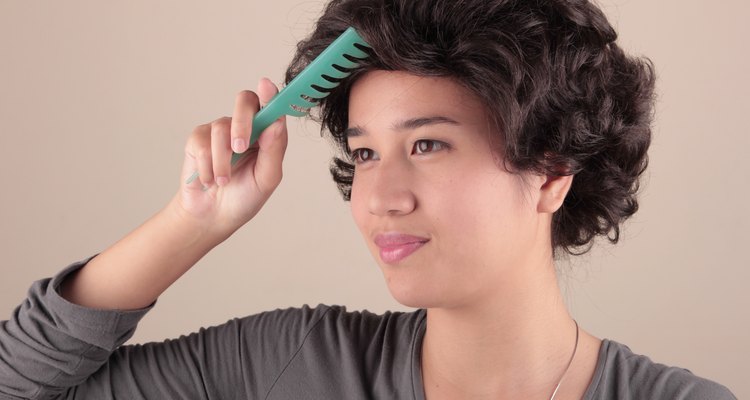 Chris Zainal/Demand Media
Style your wig in the same manner that you would style your own hair, with one exception — do not use hot curlers or hot blow dryers on synthetic hair wigs, which can melt. Aim for a not-so-perfect look when styling your wig, because natural hair is not perfect. If your wig looks too perfect, mess it up a little bit so it's looks less fake.
Chris Zainal/Demand Media
Accessorize your wig with hair clips, a headband or a scarf.
Chris Zainal/Demand Media
Bring your wig back to a stylist for a fitting whenever your hair length significantly changes. If your wig does not seem to sit properly on your head anymore, it is time for a fitting.
References
The Complete Book of Hairstyling; Charles Worthington
Milady's Standard Cosmetology; Arlene Alpert, Margrit Altenburg
Tips
Wash your wig regularly using wig shampoo, according to the wig manufacturer's directions. This will keep the wig looking fresh, shiny and healthy.
Writer Bio
Rose Kivi has been a writer for more than 10 years. She has a background in the nursing field, wildlife rehabilitation and habitat conservation. Kivi has authored educational textbooks, patient health care pamphlets, animal husbandry guides, outdoor survival manuals and was a contributing writer for two books in the Uncle John's Bathroom Reader Series.
Photo Credits
Chris Zainal/Demand Media