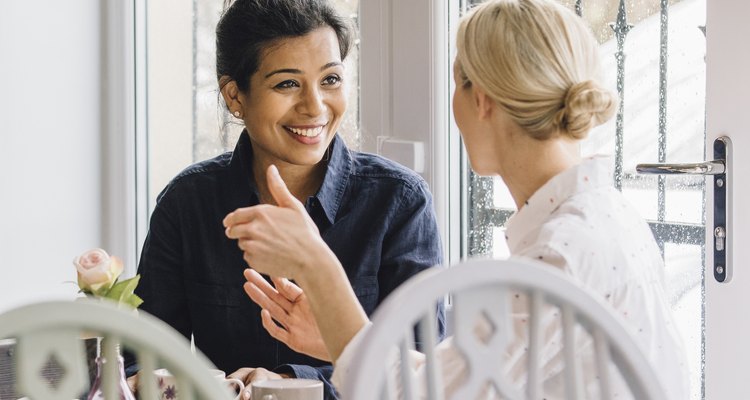 DGLimages/iStock/GettyImages
Helping a Friend Chase the Blues Away
You've had plenty of bad days yourself. If you're lucky, you have the kind of friends who will drop everything to lend an ear or wallow with you. Now one of those dear friends needs you. Maybe she's sick, scared or reeling from a breakup. Maybe she's just feeling blue. No matter the cause, you don't have to spend a lot of money or make elaborate plans to cheer her up. All you have to do is show up for her.
How to Cheer Up a Friend After a Breakup
Resist the urge to comfort her by trashing her ex; things will be awkward if she ends up getting back together with him. Instead, take your cues from her. Ask whether she wants to talk or if she'd rather get her mind off things. If it's the latter, invite her to join you and your kids for a picnic at the park or go to a museum or on a bike ride—anything to keep her busy and active. Schedule a few get-togethers in the coming weeks to give her something to look forward to.
If you can afford it, send her a bouquet of flowers. She just lost the person who was most likely to send her flowers, and getting a bunch of cheerful daisies or tulips should help her feel loved.
How to Cheer Up a Friend at Work
The one thing that would most comfort your coworker—permission to go home—you probably can't give her. So turn your attention to helping her shoulder whatever burden she's facing. If it's a work issue that's upsetting her, you may be able to take something off her plate, such as running an errand for her or pitching in to help her finish a project.
That may not be feasible, though, and you can't let your own work suffer to help her. So drop a few treats off at her desk throughout the day. Bring her a cup of coffee, stick silly notes on her computer monitor and leave candy on her desk. Invite her to join you for a 10-minute walk around the building in case she wants to talk or just clear her head. These little gestures should mean a lot.
How to Cheer Up a Friend Who Is Depressed
Someone who's depressed or even just going through a hard time probably isn't feeling great about herself. Cheer her up by telling her all the reasons you love her and like her. Maybe she's an incredible mom or you admire her huge heart and wicked sense of humor. Send a random text or two each day to share all the things that are great about her. Remind her of her worth by telling her how grateful you are to know her and how specifically she makes your life better.
Of course, texts are no substitute for professional treatment. If you worry that she's clinically depressed (as opposed to just having a tough week), the kindest thing you can do is to encourage her to contact her doctor or therapist.
How to Cheer Up a Friend Who's Sick
A sick friend probably doesn't want you hanging around when she feels crummy and tired, so comfort her from afar as much as possible. If she just has a cold or the flu, drop off soup and a DVD of a silly movie, and offer to pick up groceries or babysit her kids for a few hours.
To cheer up someone who has cancer or another serious illness, the best course of action is to ask the friend what she would like. If she prefers to be alone, simply sending her flowers and running errands for her may be the best way to give her comfort and remind her that she has people who love her and want to help. If she wants company, show up with something that you know she loves to eat or drink. Don't pry into her prognosis or try to make her look on the bright side. Try to behave as you normally would with a friend. At a time when many people are probably behaving awkwardly around her, treating her just as you always have is the best medicine.
References
Writer Bio
Cooking, travel and parenting are three of Kathryn Walsh's passions. She makes chicken nuggets during days nannying, whips up vegetarian feasts at night and road trips on weekends. Her work has appeared to The Syracuse Post-Standard and insider magazine. Walsh received a master's degree in journalism from Syracuse University.