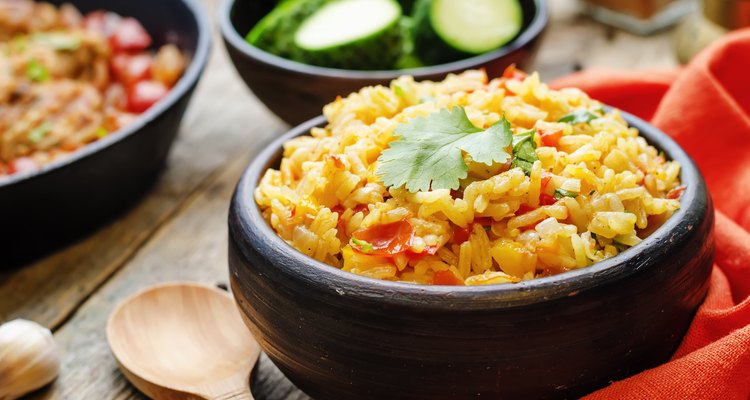 nata_vkusidey/iStock/GettyImages
An Adaptable Rice Recipe to Perk Up Tacos or Accompany Fish Dishes
There are many time-tested techniques for creating the perfect Spanish rice, using a variety of vegetables, meats and spices, and washing the rice multiple times to avoid stickiness. But you don't necessarily need restaurant-quality Spanish rice for weekday tacos, and a couple of simple steps will get you a fine, respectable side dish with a fraction of the work.
To save even more time, skip the step to saute the rice with oil and simply boil water, add salsa, and cook the rice until ready. Your Spanish rice will be a bit stickier, but it'll still pack plenty of flavor. Brown basmati rice is a healthy choice that sticks together less than other varieties such as short grain or jasmine, but this recipe works with whatever rice you have on hand.
Serve Spanish rice with meat, fish, or bean dishes, or add it to sauteed vegetables with a bit of extra salsa for a tasty riff on fried rice. Spanish rice keeps for up to a week in the refrigerator. Reheat it in the microwave to avoid dirtying a pot that will be difficult to clean.
Total Time: 45 minutes| Prep Time: 5 minutes| Servings: 4
1 tablespoon olive oil

1 cup brown basmati rice
1 3/4 cups water
2 tablespoons salsa, mild or hot, store bought or homemade
1/2 teaspoon kosher salt, or more to taste
In a medium saucepan, heat the olive oil gently. Add the rice and cook on low heat for 2 to 3 minutes, stirring constantly until the rice is aromatic.

Add the water, salsa and salt. Taste the liquid and add additional salt if desired. Bring the mixture to a boil, then cover the pan and cook until the liquid is mostly absorbed and the rice rises to the level of the water, about 25 to 30 minutes.
Turn off the heat and let the rice stand until all the liquid is absorbed, about 5 minutes longer. Don't stir; instead, tip the pan to see if any liquid remains. If you don't see liquid collecting on the sides when you tip the pan, the rice is fully cooked.
Let stand for 5 minutes longer before serving.
References
Writer Bio
Devra Gartenstein is a self-taught professional cook who has authored two cookbooks: "The Accidental Vegan", and "Local Bounty: Seasonal Vegan Recipes". She founded Patty Pan Cooperative, Seattle's oldest farmers market concession, and teaches regular cooking classes.