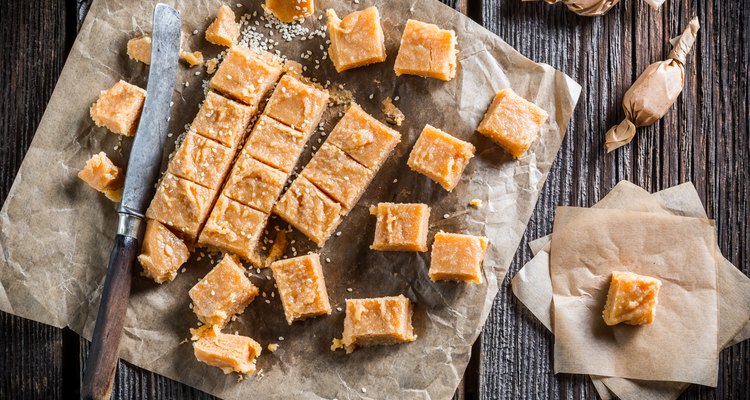 Shaiith/iStock/GettyImages
How to Make Quick and Easy Peanut Butter Fudge
This peanut butter fudge is as simple to make as it is sumptuous to savor. It requires only four ingredients, which you may already have on hand, and you won't have to heat your whole kitchen up or spend time washing numerous dishes in the process. Terrific for holiday gatherings or an everyday treat, your family might just think you slaved over it – that is, if you decide to share!
Total Time: 5 hours, 15 minutes | Prep Time: 10 minutes | Serves: about 24
1 cup creamy peanut butter

1 cup unsalted butter

1 teaspoon pure vanilla extract

3 1/2 cups powdered sugar

Line an 8- or 9-inch square pan with parchment paper.

Combine the peanut butter, butter and vanilla extract in a medium saucepan on your stove over medium-low heat.

Stir the ingredients together, and once it's creamy and smooth – which will happy quickly – remove it from the heat.

Slowly stir in the powdered sugar, stirring until well combined.

Pour the mixture into the prepared pan, and then press it down for a smooth, even appearance.

Chill the fudge for at least five hours before cutting or eating it. Store it in an airtight container in your refrigerator for lasting freshness.

References
Writer Bio
August McLaughlin is a health and sexuality writer and author of "Girl Boner: The Good Girl's Guide to Sexual Empowerment." Her work appears in Cosmopolitan, The Washington Post, DAME Magazine, LIVESTRONG.com and more. augustmclaughlin.com