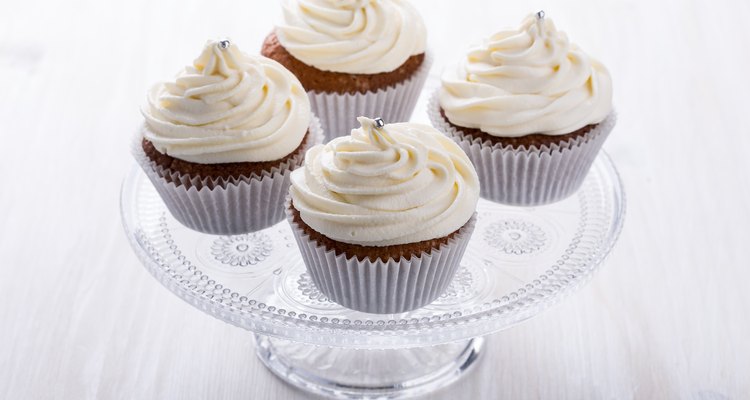 istetiana/iStock/GettyImages
A Tangy Alternative to Buttercream
You're a mom who does it all: Works 40 hours, volunteers for the PTA and bakes your kid's birthday cake yourself.
But when your darling asks for cream cheese icing instead of regular buttercream, you're thrown for a loop. Don't worry. Cream cheese icing is just as easy to make, so you can still get the cake on the table as planned.
1/2 cup unsalted butter (1 stick), softened

1 8-ounce package of cream cheese (1 brick), softened

1/2 teaspoon vanilla extract

3 cups powdered sugar, more if necessary

In a large metal mixing bowl, place the butter and cream cheese.

Beat the butter and cream cheese using an electric mixer on low speed until they're blended and smooth. Continue to whip as you add the vanilla extract.

Add the powdered sugar 1 cup at a time, mixing thoroughly after each addition. Add the sugar until you reach the desired consistency – you might need a little more or less, depending on your personal taste.

Frost your cake or cupcakes with the icing. Refrigerate any leftovers.

References
Writer Bio
Andrea Cespedes is a professionally trained chef who has focused studies in nutrition. With more than 20 years of experience in the fitness industry, she coaches cycling and running and teaches Pilates and yoga. She is an American Council on Exercise-certified personal trainer, RYT-200 and has degrees from Princeton and Columbia University.