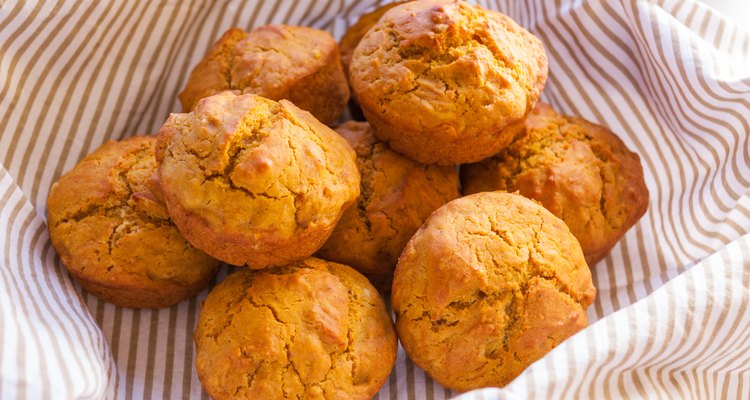 wallaby68/iStock/GettyImages
Low in Sugar and Fat, These Tasty Pumpkin Muffins are a Crowd Pleaser
To help make busy mornings easier, try these Weight Watchers pumpkin muffins that make a sweet and satisfying breakfast you can make over the weekend, keep in the freezer and take out as you're heading out the door.
The Weight Watchers Pumpkin Muffin recipe from the official website has only 5 points. Weight Watchers assigns point values to food based on protein, sugar, saturated fat and calorie content. The point system, called SmartPoints, is designed to help you limit calorie intake for weight loss and make better food choices.
This muffin recipe is adapted from the Weight Watchers pumpkin muffin recipe. In addition to a quick on-the-go breakfast, these muffins also make a good snack.
Total Time: 45 minutes | Prep Time: 20 minutes | Serves: 12
Spray oil

2 cups all-purpose flour
1 tablespoon baking powder
1 teaspoon salt
1 teaspoon baking soda
1 teaspoon ground cloves
1 teaspoon ground nutmeg

1 teaspoon cinnamon
1/2 cup pureed banana

1 cup canned pumpkin
2/3 cup sugar
4 egg whites

2/3 cup nonfat milk
Heat oven to 400F.
Coat 12-count muffin tin with spray oil.
In a large bowl, combine flour, baking powder, salt, baking soda, cloves, nutmeg and cinnamon.
In a medium bowl, mix banana, pumpkin, sugar, egg whites and milk.
Pour pumpkin mixture into flour mixture and mix until combined.
Pour the muffin mix into an individual muffin tin two-thirds full.
Cook in the oven for 20 to 25 minutes or until a toothpick test comes out clean.
While this pumpkin muffin recipe is from the official Weight Watchers website, there's another pumpkin muffin recipe associated with the weight-loss plan that has only 3 ingredients, including one box of cake mix, a can of pumpkin puree and 1 cup of water. The ingredients are mixed together, poured into muffin tins and baked in a 350F oven for 20 to 25 minutes. These pumpkin muffins have only 1 point.
The three-ingredient pumpkin muffins are a cinch to make, but the recipe from the Weight Watchers website is more in line with the new eating plan. It cuts sugar using pureed fruit for sweetness and saturated fat by using egg whites. The three-ingredient muffins may be tempting, but the one adapted from Weight Watchers website is a healthier choice.
References
Writer Bio
Jill Corleone is a registered dietitian and health coach who has been writing and sharing her love of food, nutrition and health with anyone who'll listen for almost 20 years. Her work has been featured on the Huffington Post, Diabetes Self-Management and Working Mother.