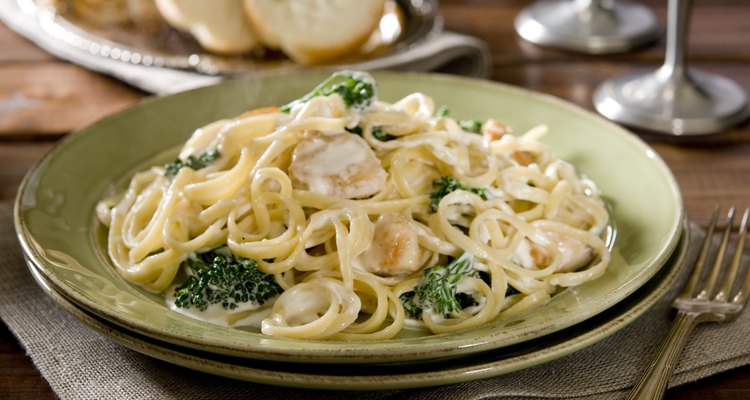 cobraphoto/iStock/GettyImages
These Grab-and-Heat Freezer Meals Make Dinners a Breeze
Crock-Pot freezer meals make life easier, because all you have to do is grab a bag out of the freezer, dump it in the Crock-Pot and get on with your day. These five recipes can be made ahead and frozen for those days when convenience is a must.
1. Chicken Broccoli Alfredo
This creamy, hearty dish is the perfect comfort food. To make chicken broccoli Alfredo, cut 1 1/2 to 2 pounds boneless chicken breast into bite-sized pieces. Add the chicken to a large freezer bag, along with the contents of a 1-pound bag of frozen broccoli florets, a chopped green pepper and a 4-ounce can of mushrooms that have been drained. Add a few cloves of diced garlic if your family enjoys the flavor. Pour 2 16-ounce jars of Alfredo sauce into the bag, and then seal the bag and freeze it until needed. Thaw the bag in the fridge the night before, then place the contents in the Crock-Pot when you're ready to cook the meal. Cook on low for 4 to 6 hours. Serve over noodles.
2. Slow-Cooked Pork Tenderloin
Pork tenderloin is one of those freezer meals that's great to plan when the meat is on sale, as you can easily double or triple the recipe and pack the meals into separate freezer bags. To make slow-cooked pork tenderloin, chop 1 medium onion and several cloves of garlic, then place those in a bowl. Add a 1-ounce packet of dry onion soup mix, plus 1 cup each chicken broth and red wine, along with 1 1/2 tablespoons soy sauce and 1 1/2 teaspoons Worcestershire sauce and salt and pepper to taste. The wine can be replaced with more broth or Worcestershire sauce if you prefer. Whisk until well blended. Place a 2-pound pork tenderloin in a freezer bag, and then pour in the marinade. Seal the bag and freeze until needed. When it's time to cook, place the contents of the bag in the Crock-Pot and cook on low for 4 to 5 hours.
3. Freezer-to-Crock-Pot Chicken Fajitas
Chicken fajitas turn any night into fiesta night. To make these family favorites, place 2 pounds of boneless chicken breasts into a large freezer bag. There's no need to cut the chicken into smaller pieces. Slice several red or green peppers, 2 cloves of garlic and a small yellow onion, adding each to the freezer bag. Add a few slices of diced jalapeño if you prefer a little extra zing. Pour in 1 tablespoon each of honey, apple-cider vinegar and chili powder. Add 2 teaspoons cumin, 1 teaspoon paprika and 1/4 teaspoon crushed red pepper flakes. Remove the air from the bag, seal it and freeze it flat for up to 3 months, thawing it in the fridge the night before you plan to cook. To cook the fajitas, place the bag contents in a Crock-Pot and heat on low for 6 hours. Shred the chicken with forks, and then serve in flour tortillas with your favorite toppings.
4. Easy Crock-Pot Meatloaf
Meatloaf is another one of those comfort-food classics that can be easily converted into a Crock-Pot freezer meal recipe. To make this meatloaf, beat 2 eggs in a large bowl. Add 1/2 cup milk or nondairy nut milk, 2/3 cup breadcrumbs, a small chopped onion, 1 teaspoon salt, plus 1/4 teaspoon each black pepper and sage or Italian seasoning. Add 1 1/2 pounds lean ground beef, mashing the ingredients together with clean hands. Keep mixing the ingredients until well blended, and then place the meat mixture in a freezer bag and freeze it until needed. To cook the meatloaf, place the bag contents in the Crock-Pot and add as much ketchup or barbecue sauce as you'd like. Cook on low for 8-10 hours.
5. Hearty Beef Stew
Beef stew is hearty enough to please even the hungriest family members. To make Crock-Pot freezer beef stew, cut several red potatoes into cubes and dice 4 carrots, placing the pieces in a 1-gallon freezer bag. Add 1 pound cubed beef stew meat, plus the contents of 1 frozen package of green peas. Add 1 package of dry onion soup mix plus 1 8-ounce can tomato sauce and 2 cans of cream of mushroom soup. Add a small can of stewed tomatoes, if you like tomatoes in the stew. Seal the bag and massage it a bit to blend the ingredients before freezing the bag. Thaw the bag in the fridge the day before you plan to cook. To cook the stew, pour the bag's contents into a Crock-Pot, cover and cook on low for 7 to 10 hours or on high for 5 to 6 hours.
References
Writer Bio
Kathy Adams is an award-winning journalist. She is an avid DIYer that is equally at home repurposing random objects into new, useful creations as she is at supporting community gardening efforts and writing about healthy alternatives to household chemicals. She's written numerous DIY articles for paint and decor companies, as well as for Black + Decker, Hunker, Kroger, SFGate and others.