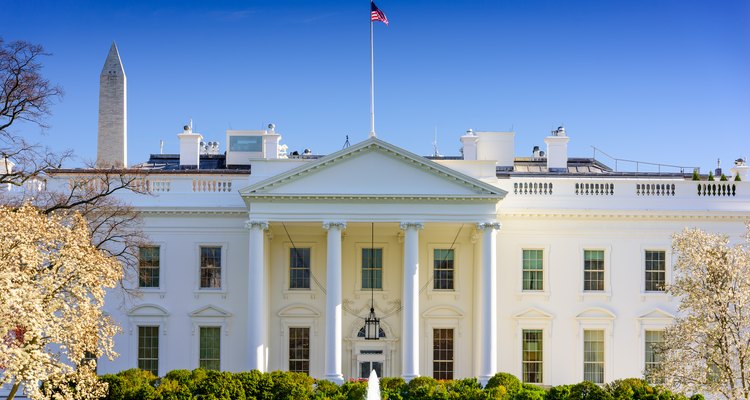 SeanPavonePhoto/iStock/GettyImages
Touring the President's House
A visit to the White House is high on many families' must-do list. Unlike the free monuments, memorials and museums on the National Mall that require no preparation to visit, touring the president's house requires advance planning.
Procedures for Visiting the White House
Contact your congressperson for free tickets to the White House (1600 Pennsylvania Ave., NW, Washington, D.C.) tour. You can call or check your representative's website for the section called Constituent Services, or something similar, for the nuts and bolts specifics for getting tickets. Tickets are available for times between three months and three weeks in advance.
Your application will be subject to a security check, and, once you arrive, anyone 18 or older needs a valid photo ID such as a passport or driver's license that matches the information on the application. Make sure you include all the children in your group on the application.
White House Tour Specifics
The line for the tour begins at 15th and Hamilton Place, N.W. Tours operate between 7:30 a.m. and 11:30 a.m. on Tuesday, Wednesday and Thursday. Tours end at 1:30 p.m. on Friday and Saturday, and the White House is closed to tours on Sunday and Monday, holidays, and whenever White House personnel have reason to close the mansion to the public.
When you arrive, you'll go through a security checkpoint, and as you tour the building, you'll notice Secret Service agents in each public room.
Allow about 45 minutes for the full tour. If your children get restive, you can finish the self-guided tour more quickly and leave the White House.
Things to Keep in Mind
Tickets are available on a first-come, first-served basis, and tours fill up quickly. Start making arrangements for a White House tour as soon as you know the dates of your visit to Washington.
The rules for what you can carry into the White House are strict. Aside from the obvious, such as weapons, you're prohibited from bringing video cameras, food and drink, backpacks and purses.
Smartphones are okay, but selfie sticks, flash photography and making or receiving calls is prohibited.
Parents with kids should note there are no public restrooms in the White House. The closest public facility is in the White House Visitor Center (1450 Pennsylvania Ave., NW, Washington, D.C.).
The working areas of the White House aren't on the regular tour. If you know someone working in the West Wing, ask her if she can arrange an after-hours tour.
Things to do Near the White House
Stop by the free White House Visitor Center where you can take a virtual tour of the president's house, watch a movie and view exhibitions of items once located in the mansion.
If your kids don't already have one, buy a Passport to Your National Parks book. Each time they visit a park, they can have it stamped, giving them a tangible memory of trips to sites across the country.
During the holiday season, the National Christmas Tree occupies a spot just south of the White House. Music performances, live animals and a yule log create a family-friendly atmosphere.
References
Writer Bio
Meg Jernigan has been writing for more than 30 years. She specializes in travel, cooking and interior decorating. Her offline credits include copy editing full-length books and creating marketing copy for nonprofit organizations. Jernigan attended George Washington University, majoring in speech and drama.