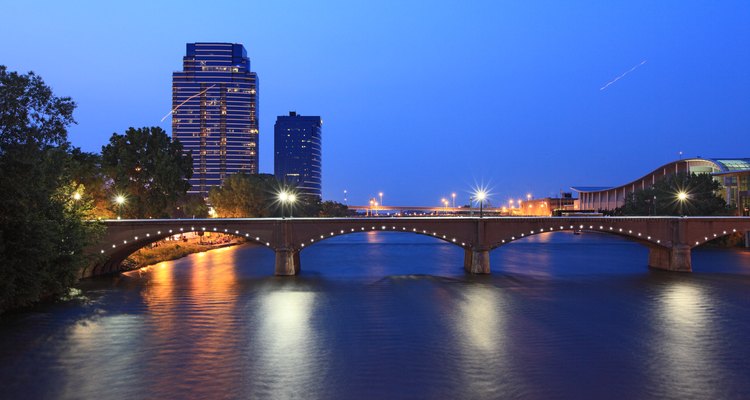 Dole08/iStock/GettyImages
Heading Riverside? Here Are Six Activities Your Kids Will Love
Grand Rapids, MI is the pinnacle of adult fun—think craft beer and cutting edge cuisine—so it's a good thing there are plenty of diverse activities for kids to enjoy as well. Whether you hit River City in the summer or winter, there are loads of indoor and outdoor adventures to keep the whole family busy without breaking the bank. Check out these free things to do as a family in Grand Rapids, so you can save your money for that well-deserved craft beer at the end of an action-packed day.
For the Burgeoning Creatives: Grand Rapids Art Museum
Grand Rapids has long been a popular destination for artists and art enthusiasts, and there is no better place to start than the Grand Rapids Art Museum (101 Monroe Centre St. N.W., Grand Rapids, MI) where there is free admission on Tuesdays from 10 a.m. to 5 p.m. and Thursdays from 5 to 9 p.m. This beautiful, low-key space is perfect for wandering with creative kids. Well-lit and spacious, the museum includes an area with video demonstrations and a children's book nook with a collection of art-related books for little ones. Art on display includes regional talent and some pieces from international artists. It's also conveniently located right on the river and across from Madcap (98 Monroe Centre N.W., Grand Rapids, MI), one of the best coffee shops in town, so everybody wins.
For the Future Film Critics: Movies in the Park
Free films on the banks of the Grand River happen in Ah-Nab-Awen Park (220 Front Ave. N.W., Grand Rapids, MI) every other Friday from June through August. Expect family-friendly films that everybody can get into, like Willy Wonka and the Chocolate Factory and The Book of Life. Bring a blanket, snacks and some cold beer and make a picnic out of it. Movie-themed trivia games start at 6 p.m. followed by the movie on a giant screen beginning at dusk.
Who Doesn't Love Donuts?
When the red Krispy Kreme Donuts (2700 E. Beltline Ave. S.E., Grand Rapids, MI) sign, Hot Now, is lighted, stop the car and head into the most generous donut shop in Michigan. The red light means that the donuts are hot and free samples are available, along with a glimpse into the production of perhaps one of the most sinfully delicious concoctions on earth: the famous glazed donut. Watch the donuts come right off the assembly line and then let them melt in your mouth. Kids also get free hats.
For the Young Nature Buffs: Millennium Park
Explore Millennium Park (1415 Maynard Ave. S.W., Grand Rapids, MI), a 1,500-acre swath of land on the west side of Grand River, with breathtaking views of preserved wetlands, lakes and forested terrain. There are 20 miles of paved paths, elevated boardwalks and nature trails, all free of charge. A walk by the water is sure to result in fish, turtle and frog sightings. There are various trails to bike or hike, a large playground and a swimming beach and splash pad, but there is a fee to enter the beach area.
For Those Who Love to Splash: Leslie E. Tassel Park
If you find your little ones struggling with the summer heat, head to Leslie E. Tassel Park (2900 Thornapple River Dr., Grand Rapids, MI), where there is a fountain and a splash pad that the kids will absolutely love. This underrated park is a beautiful green space that is located right on the river. It has walking trails, a fire pit and two shelters in case of rain. There are also picnic tables and benches located throughout. And if that isn't enticing enough, two ice cream shops are within walking distance.
Educational Play: Grand Rapids Children's Museum
Thursday night is family discount night at the Grand Rapids Children's Museum (11 Sheldon Ave. N.E., Grand Rapids, MI), which makes it almost free at just $1.75 admission between 5 p.m. and 8 p.m. The museum is the perfect respite from a cold winter day. It's well organized and has a wide variety of activities for children from preschool to preteens. Activities range from play with giant bubbles and train sets to an observation honeybee hive where the kids can see the inside of a hive.