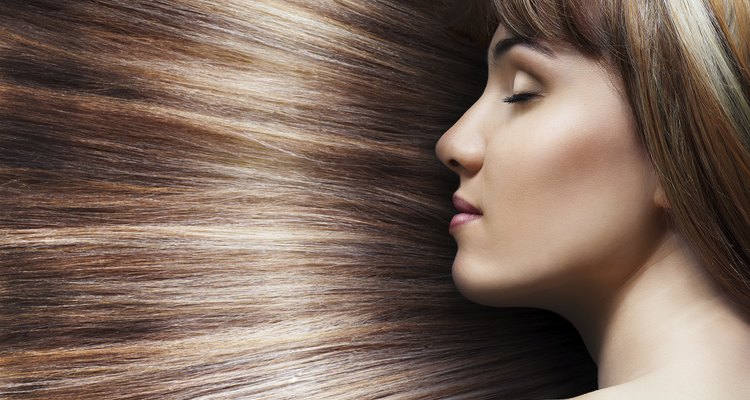 Choreograph/iStock/Getty Images
Aveda's hair gloss treatment is the company's Brilliant Emollient Finishing Gloss. It is sold in beauty supply stores and pharmacies to control unruly hair by smoothing out ends while providing a glossy shine. Aveda lists the Brilliant Emollient Finishing Gloss on the company website as one of its top-rated products.
Benefits
Aveda Finishing Gloss is suitable for all hair types and can be used by anyone who wants to add shine to dull hair. If you have curly or frizzy hair, a small amount of the product can smooth and tame the hair. Only a small amount should be used because your hair can look greasy if too much of the product is applied.
Prevention/Solution
To apply Aveda Finishing Gloss, you squirt a few pumps of the solution into your hand. Rub your hands together, and then run your hands through dry hair. Start at the back of your head and move to the front hairline. Work an even layer through the entire mane. If you want to add extra shine and pliability, the product can be applied to damp hair. Or mix one to three pumps with any type of styling product and apply while your hair is still wet.
Considerations
To condition dry and damaged hair with the gloss, you should first apply a liberal amount of the product to your hair when it is dry. Work the gloss into your hair from the roots to the ends, then wrap your hair in a hot, damp towel. After the towel has cooled, rinse your hair and style as usual.
Features
Most of the ingredients in Aveda Brilliant Emollient Finishing Gloss are natural oils such as soybean, rice bran and jojoba. Other ingredients include vitamin E, citral, eugenol, dimethicone, phenyl trimethicone and cyclomethicone.
Warning
According to Goodguide.com, the only controversial ingredient found in the emollient is added fragrance, which can be irritating or cause an allergic reaction. The company has not named the specific compounds used to make the fragrance in Aveda Brilliant Emollient Finishing Gloss.
References
Writer Bio
Heather Topham Wood is a seasoned writer whose work has appeared in numerous publications, including USA Today, Gadgetell, Feel Rich and Step in Style. Heather is a published novelist with six Amazon bestsellers and a contract through Crescent Moon Press. She holds a bachelor's degree in English from TCNJ.
Photo Credits
Choreograph/iStock/Getty Images