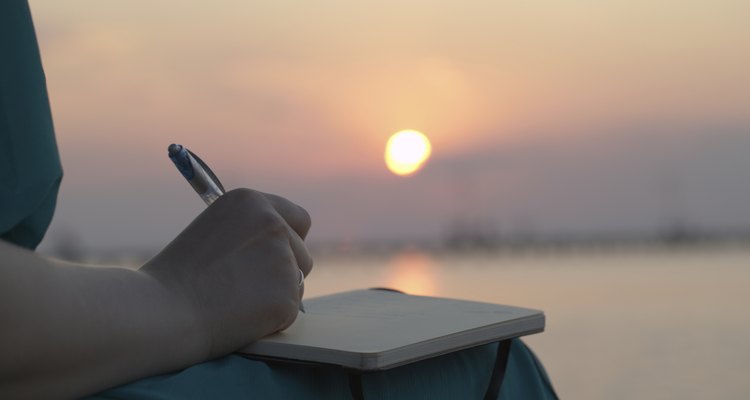 danr13/iStock/Getty Images
Words Do Pack Meaning
You've seen other people do it, and you probably do it, too, as you stand in front of a rack of greeting cards: You grab a card that looks promising, quickly scan the inscription and, more times than not, jam it back in the rack. Finding the "right" pre-written greeting card isn't easy, so it's no wonder you're struck with a case of writer's block about writing to someone in hospice care.
You're thoughtful and wise to want to choose your words carefully. But you should say what's in your heart and express yourself in a genuine way, too, as only you can. And sometimes this means taking chances. Before you raise a pen, let the people who have the best perspective – hospice care workers – impart some helpful advice about writing to a terminally ill friend or loved one. Then, if you need it, follow some more pointed advice to imbue your note or letter with love, concern and authenticity.
Understand the Terrain of Hospice
Don't procrastinate. There is nothing disingenuous about this advice. Despite the foreboding nature of hospice, many people put off communicating with a friend or loved one, assuming they will have time tomorrow or the day after. With hospice, time is running out, and you don't want to live with the regret of unexpressed sentiments.
Aim for the truth, but don't overlook the value of a white lie. It's been said that "the truth can set you free." But to someone dying in hospice, it can also shatter a compromised heart. A great example: a mother who has anguished over two feuding children would probably appreciate knowing, in her final days, that they are trying to reconcile. You may be stretching the truth; maybe you're trying to reconcile only in your dreams. But the words could bring peace to a mother – and, by extension, to you after she's gone.
Split a difficult communique into several messages. Deploy some "reverse psychology" on your own writer's block, especially if you're struggling to write one expansive, emotionally-charged or "make the peace" letter. Express your affection in one letter, forgiveness in another letter and knowledge of lessons learned in another. Segregating your emotions also could help to segregate your thoughts. (Just be sure to send the letters in one bundle.)
Strive to reassure. People nearing the end often need to know that their lives were full of meaning and purpose. Be specific in how your friend or family member served as a role model, helped you solve a vexing problem or make a life-altering decision. Purposeful words will help you avoid cliches and empty platitudes, which will ring hollow.
Don't shy away from humor. In fact, reminiscing about a humorous incident in your past may be just the elixir your loved one will appreciate most – and one that will lift the cloud of your writer's block.
Pointers to Sharpen Your Pen
It can be difficult – sometimes impossible – to say everything you want to another human being who is facing the end of life. The sheer enormity of the passing can feel overwhelming. If your eyes are clouded with tears, here are some final sentiments that could serve you well:
"Thank you for making my life happier, which you did every day we were together ."
"I've never known anyone quite like you – and I know I never will." "I love you – and I'll always miss you." "I will always carry you and the memories we shared in my heart."
References
Writer Bio
Mary Wroblewski earned a master'sdegree with high honors in communications and has worked as areporter and editor in two Chicago newsrooms. She launched her ownsmall business, which specialized in assisting small business ownerswith "all things marketing" – from drafting a marketing planand writing website copy to crafting media plans and developing emailcampaigns. Mary writes extensively about small business issues, andespecially "all things marketing."
Photo Credits
danr13/iStock/Getty Images