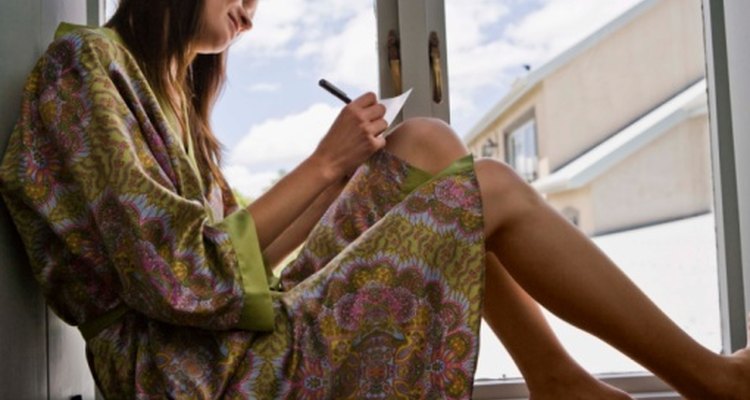 Jupiterimages/BananaStock/Getty Images
Everyone makes mistakes in life, but some are tougher to atone for than others. If you're not sure how to articulate or deliver an apology for your mistake, consider doing it by letter. Writing a letter of remorse allows you to craft the perfect apology, while still delivering it in a sincere and personal way.
If you're not sure where to start on your apology letter, consider the following method.
Start With a Reason
Consider opening your letter by stating why you're writing it in the first place. Tell the person you're writing to how you're feeling and why you think you owe an apology, such as with the following sentence:
"I am writing this letter because I feel _ _ _ about the way I have treated you, and _ _ _ about what I have put you through recently."
Fill in the blanks with your own words expressing your feelings of remorse. By getting straight to the point at the beginning of your letter, you'll capture the recipient's attention to communicate right away that you'd like to apologize.
State Your Apology
Now that the recipient knows how you feel, it's time to actually say you're sorry. Don't shy away from giving clear and specific details of your wrongdoings and the harm they caused. Keep it simple, with something along the lines of:
"I am very sorry for _ _ ," or "I want to apologize for _ _ ."
Claim Responsibility
It can be tempting to allocate some of the blame for your mistake to someone or something else, but when you're making an apology, it's important to express that you know you're responsible for your actions. State that explicitly:
"I know that I am completely responsible for what I did, and I should not have _ _ _ because _ _ _."
Accept the Impact of Your Actions
Make sure the recipient of your letter knows that you're aware of how your mistake affected her and anyone else who might have been involved. If your mistake made someone feel betrayed, afraid or hurt, say so, and reiterate that you don't want to repeat the mistake and you'll wait until the recipient is ready to forgive you.
"I am realizing what I must have put you through with my mistake. I understand that I made you feel _ _ _ when I _ _ _, and I don't want to cause those feelings again. I will keep my distance out of respect for how I made you feel."
State Your Future Intentions
Even if you lose your relationship with the letter's recipient, it's important to let him know how you plan to change going forward. If you're seeking help or otherwise trying to make amends, say so – but without expressed hope or expectation for his forgiveness.
"I am trying to be better now by _ _ _, but I know that won't undo what I have done. I am not asking for your forgiveness. I just want to let you know how sorry I am for what I did."
References
Writer Bio
Brenna Swanston is a freelance writer, editor and journalist. She covers topics including environment, education, agriculture, travel, immigration and religion. She previously reported for the Sun newspaper in Santa Maria, Calif., and holds a bachelor's in journalism from California Polytechnic State University. Swanston is an avid traveler and loves jazz, yoga and craft beer.
Photo Credits
Jupiterimages/BananaStock/Getty Images