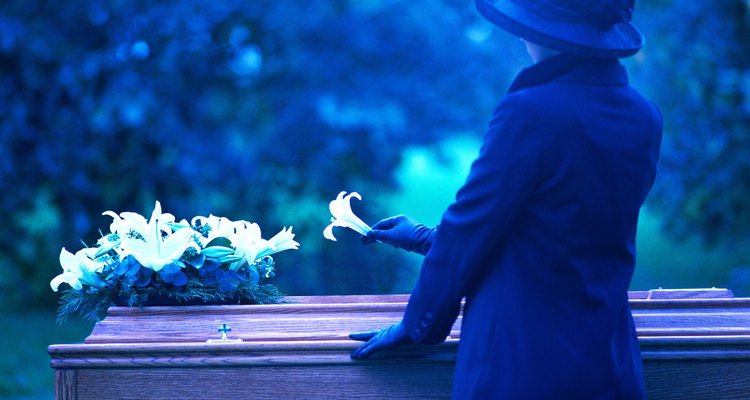 George Doyle/Stockbyte/Getty Images
Pentecostalism is a Christian movement that began in the early 20th Century in the U.S. and has spread around the world. It is the fastest growing segment within Christianity, second only to the Roman Catholic Church in worldwide membership. With the large numbers who identify with Pentecostalism, it is increasingly likely that you will find yourself invited to a Pentecostal funeral. Knowing something about Pentecostal funeral customs can be useful, especially when deciding what to wear.
Diversity
From its inception, the Pentecostal movement has been multiracial and multicultural. Because of this, there are a wide variety of customs in Pentecostal churches. For the most part, funeral customs in Pentecostal churches, including those regarding appropriate attire, mirror those of other Protestant churches. However, Pentecostal churches run a wide gamut in their traditions. Some Pentecostal churches are very informal, to the point that casual clothing would be perfectly acceptable to wear to a church service or funeral. Other Pentecostal churches expect more formality in dress, especially during funeral services.
Traditional
Most Pentecostal churches do not have rigid dress codes, even for events such as funerals. Most who attend a Pentecostal funeral dress in dark, semi-formal clothing. For men, this generally means a dark suit and tie. If you don't have a suit, dark dress slacks and a button down shirt are acceptable. Women will generally wear dark skirts or dresses. Depending on the church, slacks or pantsuits may or may not be deemed appropriate for women to wear to a funeral.
Apostolic Pentecostals
Apostolic Pentecostals, also called "Oneness" or "Jesus Only" Pentecostals, are a subset of the Pentecostal movement who tend to be stricter than other Pentecostals in what they consider appropriate attire. If you are attending an Apostolic Pentecostal funeral and want to blend in, men should wear dark suits and women should wear dark, floor length dresses or skirts. Both men and women should wear long sleeves and refrain from wearing jewelry other than wedding bands and wristwatches. Women should not wear makeup to an Apostolic Pentecostal funeral, as Apostolic women generally don't wear makeup at all.
White
An increasingly popular trend among Pentecostal churches is to wear white to funerals. Churches that encourage this do so to represent the resurrection of the body. For some, the wearing of white represents a celebration of the deceased's "homecoming" to heaven. Before choosing to wear white to a Pentecostal funeral, make sure that the particular church conducting the funeral follows this new tradition. Very few will consider it unusual if you wear dark clothing to a funeral, even if some of them are wearing white, but churches that don't follow this tradition may find it very odd if a mourner shows up in white while everyone else is dressed more somberly.
Err on the Side of Caution
If you are unsure of the customs for a particular church, the best way to find out is to ask someone who attends the church. If you are uncomfortable asking, or don't know whom to ask, assuming the church expects traditional, dark funeral attire is usually safe. For funerals, it's generally better to err on the side of caution. Most people will not feel uncomfortable if you are slightly over-dressed for a funeral, but you may feel uncomfortable if you are under-dressed.
References
Writer Bio
Dell Markey is a full-time journalist. When he isn't writing business spotlights for local community papers, he writes and has owned and operated a small business.
Photo Credits
George Doyle/Stockbyte/Getty Images