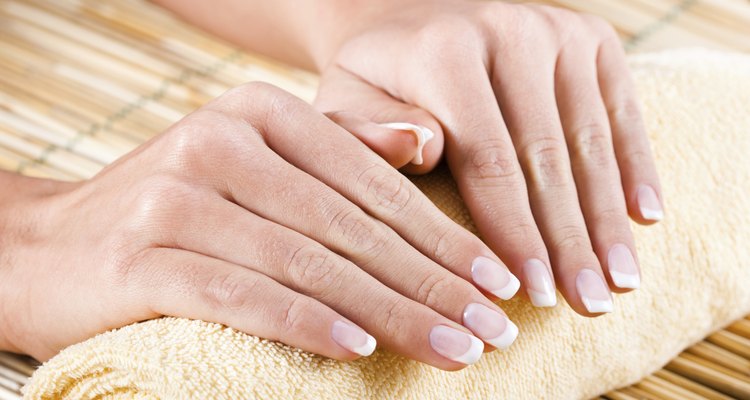 LittleBee80/iStock/Getty Images
Like skin and hair, nails need hydration for optimum health. SolarOil, an award-winning cuticle oil from CND, provides nails and cuticles with needed moisture. SolarOil is especially beneficial if you have dry, brittle nails that are prone to breakage. Adding SolarOil to your moisturizing routine nourishs your fingernails with vitamins and oils so they can grow stronger and healthier.
How It Works
A bottle of SolarOil may resemble a bottle of top-coat polish, but that's where the similarities end. The sweet-smelling SolarOil nourishes nails with three key ingredients: jojoba oil, sweet almond oil and vitamin E. Jojoba oil and sweet almond oil are emollients that soften the nails and cuticles. Vitamin E is an antioxidant that promotes oil balance in the skin and improves blood flow through the nail and growth structures.
How to Use It
You can use SolarOil on any type of nails, including painted, acrylic and gel nails. Apply a drop of the oil on your cuticle and brush it down to the tip of your nail. With your finger, rub the oil all around your nail so it also penetrates the skin around the nail. If your nails are in dire shape, use SolarOil at least three times a day. After your nail health improves, apply the product daily to keep your manicure looking its best.
References
Writer Bio
Ivy Morris specializes in health, fitness, beauty, fashion and music. Her work has appeared in "Sacramento News and Review," "Prosper Magazine" and "Sacramento Parent Magazine," among other publications. Morris also writes for medical offices and legal practices. She holds a Bachelor of Arts in government-journalism from Sacramento State University.
Photo Credits
LittleBee80/iStock/Getty Images