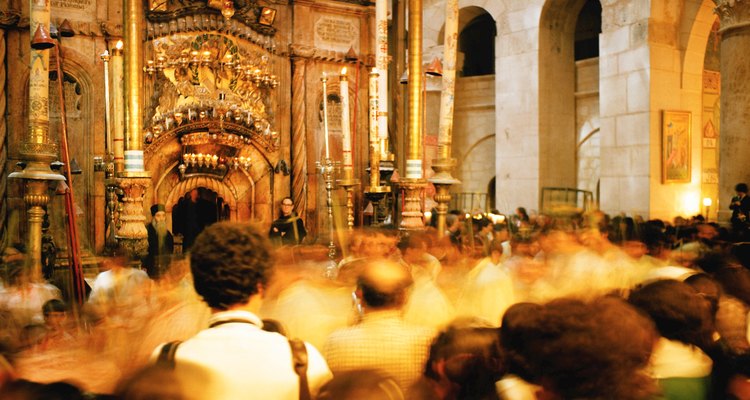 NA/Photos.com/Getty Images
Keeping good records of church members is a vital function for churches, large and small. It is important for the pastor and responsible church officers to have up-to-date information on each member of the congregation. Orderly records make it possible to recognize attendance, birthdays, anniversaries and participation in the life of the church.
Manual Record Keeping
Smaller churches, operating on limited budgets, may prefer to keep all church records manually. This requires that someone act as the church secretary, on a paid or volunteer basis. A record is created and kept for each individual or family member holding membership in the church. Records must be filed in a secure setting with access limited to the pastor, secretary and designated members entrusted with the affairs of the church. Keeping physical records on church premises leaves records open to hazards such as fire, theft and intrusion. It is common for the home office of each church denomination to offer record cards for manual record systems.
In-House Computerized Records
Personal computing fosters a wide range of church record keeping systems. Software is available in generic and denomination-based formats for most churches. Computer-based church records speed up record entry or modification. Many different kinds of information can be kept and cross-linked to meet a variety of purposes. Data can be entered for individual member giving, small group participation, event notices, planning and church budgeting. Exercise care to limit access to the computer-based material to responsible church members. This might include the pastor, church secretary, financial secretary and membership chairman, limited by password access. In-house systems require that regular backups of church data be kept in a secure off-site location. Backups override the possibility of hazard loss or theft.
Online Membership Records
A growing number of church websites also have secure online church-record databases. Online records are safe from hazard or theft. They eliminate the need for routine data backups as the website management company performs daily backups as part of their service. Record keeping online provides remote access for those authorized to view and work with the records. Regular software updates and improvements originate with the website management company as a feature of their service.
Record Sensitivity
Church membership records include many items of a sensitive nature. Financial records show how much and how often individuals or families contribute money to the church. Individual member records might show personal counseling information that should be limited to the pastor. Health disclosures made to the pastor must be given tight security. Each method of member record keeping must deal with sensitive material. Take care to restrict this information to those authorized to deal with such information.
References
Writer Bio
Ned Millis has been published in "Tennis Industry Magazine," "Golf Industry Magazine," "Sales Management Magazine" and other trade publications. He is a graduate of Claremont Men's College.
Photo Credits
NA/Photos.com/Getty Images