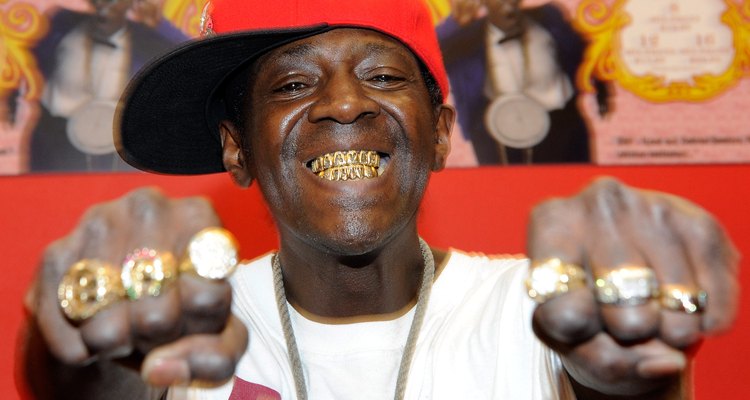 Ethan Miller/Getty Images Entertainment/Getty Images
Gold, silver and mother-of-pearl dental fixtures trace their roots back thousands of years; these days, custom-fitted gold dental castings -- commonly dubbed grillz or fronts -- play a flashy, opulent role in the fashion world. Rapper Flavor Flav helped to elevate grillz's popularity in the1980s and 90s, and pop stars from Madonna to Rihanna have sported them on the red carpet. Grillz of the 10-karat gold variety offer a strong and affordable option, but they are more prone to tarnishing than higher-karat fronts, making cleaning an especially important part of owning and wearing a 10K grill.
Remove your grill and gently brush the interior portion with a soft-bristled toothbrush and warm water, just as you would your teeth.
Fill a glass with mouthwash and soak the gold teeth in it overnight. When you remove the grill in the morning, rinse it thoroughly with warm water.
Pat the grill dry with a soft, nonabrasive cloth. To increase the shine of your grill's outer gold portion, use the soft-bristled toothbrush to apply an optional nonabrasive gold teeth cleaner -- available from jewelers who produce gold teeth -- according to the manufacturer's instructions. Polish all of the outer gold surfaces with a gold-cleaning cloth, using gentle circular motions.
References
Writer Bio
With a diverse professional background and a decade of experience as a freelance writer, Dan has contributed lifestyle content -- from fashion to travel to fitness and more -- to publishers including Chron, Fortune, Sony, GlobalPost, ModernMom, Moviefone, Salon.com, Techwalla and dozens of others.
Photo Credits
Ethan Miller/Getty Images Entertainment/Getty Images