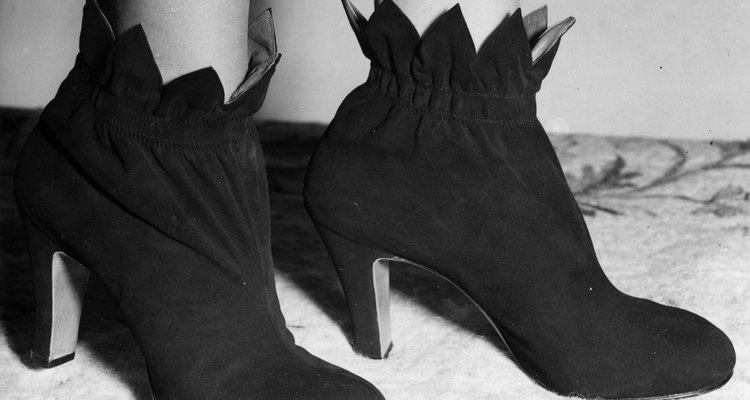 Harrison/Valueline/Getty Images
Ugg boots are sheepskin boots with a suede exterior and wool inside to provide comfort and temperature control for your feet. Especially when exposed to wet, snowy conditions, suede can deteriorate quickly if it isn't properly maintained. This effort should start with applying something to protect the suede against water and stain damage.
Spray Suade Protector
Leather protectors typically come in cream or spray form. For suede, the spray form is recommended; in fact, the cream form most likely will mat your suede products. It is recommended you spray your suede boots every six months or more if needed; spray lightly over the boot to prevent soaking the suede, which would cause it to mat. If needed, try doing several light coats instead.
Ugg Sheepskin Stain & Water Repellent
Ugg has its own line of sheepskin care products to protect and clean its signature boots. The benefit of purchasing Ugg's Sheepskin Stain & Water Repellent is it has been specifically chosen and tested to be used on these boots. It is also typically the most expensive option, since it carries their brand name.
Kiwi Suede & Nubuck Protector
Kiwi is a brand which has been long associated with shoe care. This spray-style leather protector product is lower in price than the Ugg brand and is easier to find in retail stores.
Meltonian Suede Renew
Meltonian is another common brand you will find sold in shoe and leather stores as a recommended suede protector. This brand stresses the ability to allow the leather to breath while keeping the water out. Meltonian products cost about the same as, and in some cases a little less, than, those from Kiwi.
Other Brands
There are many other suede protectors available, and many shoe salesmen have long been recommending Scotchgard, though Scotchgard itself does not recommend the product for suede. Look for products which spray a mist instead of a stream. Try to stick with products which are especially designed for suede or nubuck, even if they aren't specifically designed for shoes.
References
Writer Bio
Based in the Northwest, Shannon Kempe recently switched careers to pursue a longtime passion for writing. Kempe attended Southern Oregon University followed by a strong business career. She started a blog in 2007 on the struggles of growing older, which quickly gained national readership, and now has articles published on eHow.com.
Photo Credits
Harrison/Valueline/Getty Images