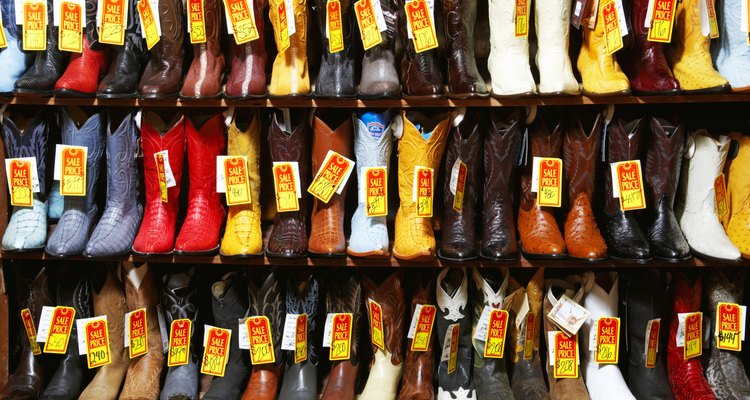 Kraig Scarbinsky/Lifesize/Getty Images
Lucchese makes cowboy boots from many types of leather, including cow skin, deer, alligator, python, ostrich and even shark skin and stingray. It isn't difficult to take care of these boots, even those made of exotic skins, as long as you follow Lucchese guideline. All leather boots, no matter the material, should be cleaned and protected to keep them looking new, and prevent general wear and cracking of the leather. If you store your boots in a dry, clean area and clean them as necessary, they should last for many years.
Gently brush dirt from boots with a shoe brush. Wipe the boots, if they are finished leather (not-suede, for example) with a damp cloth to remove remaining dirt. Allow the boots to dry.
Apply a small amount (about the size of a quarter) of leather conditioner to a clean, dry cloth. Wipe this over the entire boot. If your Lucchese boots are made from an exotic leather, such as snakeskin or shark, use a conditioner intended for exotic leathers. Lucchese.com also recommends applying several thin layers of conditioner to the exotic leathers, rather than one thick layer.
Allow the conditioner to fully penetrate and dry on the boots and then apply a polish (if boots are glossy leather). Lucchese recommends going with the grain of the scales (if snakeskin other than rattlesnake. Lucchese does not recommend polishing rattlesnake boots). After polishing, buff boots to a high sheen with a dry cloth.
Spray a water and stain protecting spray on the boots. Lucchese.com recommends a non-silicone based water and stain repellent.
Brushing boots, in between cleanings, with a soft cloth to remove dust will keep them looking nicer longer.
Suede boots should be cleaned by brushing them (dry) and then treating with water and stain repellent.