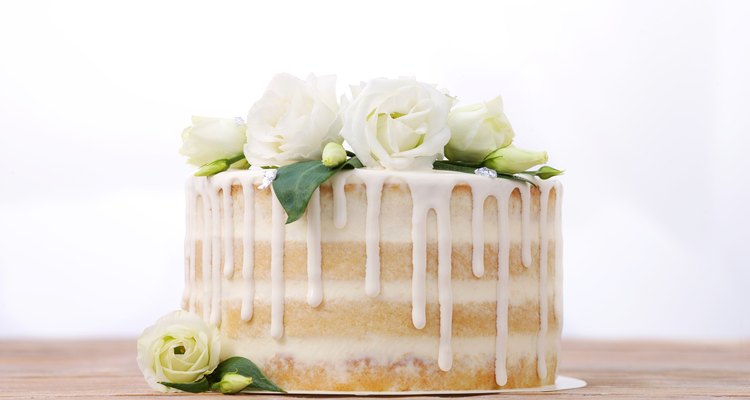 KIV_ph/iStock/GettyImages
Preparing a wedding cake can be a daunting task, even for professionals. Aside from baking the cakes themselves there are a number of other tasks such as preparing the main icing and any decorative designs, and deciding how to assemble the finished cake. It's very helpful to prepare ahead of time, to the extent you can. For example, making the cake's layers weeks in advance and freezing them is a great time saver and it actually makes your cake better.
Baking in Advance
Baking your cake in advance offers a number of benefits, and saving time as the wedding approaches is only one of them. For one thing, it allows you the opportunity to taste and evaluate the cake itself if you're trying a new recipe. Even if you're working with a tried-and-true recipe or a cake mix, there's also the possibility of a last-minute malfunction or disaster that can sabotage your plans. Baking the cake ahead of time can save you a lot of stress, acting as the proverbial "ounce of prevention."
Freezing and Texture
Casual bakers are often reluctant to freeze their cakes, worrying that the texture might be affected or that the cake might be dry afterwards. In truth, the opposite is true. Professional bakers and cake decorators know that if the cake is allowed to cool completely after baking, then wrapped tightly and frozen, its texture after thawing is better than if it's decorated immediately. The cake is less likely to produce stray crumbs, which complicate the icing process, and the texture of the cake is richer and moister than if it was never frozen.
Freezing the Cake
To take advantage of that characteristic, place each layer of your cake on a separate cake board that's cut to the same size as the cake. Wrap it snugly with plastic film wrap, then again with a second layer. If your freezer is crowded, protect your cake layers by placing them in a box or rigid plastic container. That minimizes the risk of them being crushed by a heavy roast or other frozen item. Some bakers prefer to level the layers and cover them with a thin "crumb coat" of buttercream before they're frozen, but that's optional.
Thawing and Using
Thaw your cake layers in their wrappings once you've prepared the other icings, fillings and decorations you need to finish their assembly. They'll need two to three hours, depending on the room temperature. If you've already crumb-coated the layers, they might need an extra hour. If you need to level or split the cake layers, or carve the layers into a specific shape, it's often easiest to do that before the cake is completely thawed. Spread the layers with a thin crumb coat of buttercream if you haven't already, and let it set for 15 to 20 minutes. Then apply your main coat of buttercream icing or rolled fondant and go on to assemble and decorate the cake.
References
The Professional Pastry Chef; Bo Friberg
Writer Bio
Fred Decker is a trained chef and prolific freelance writer. In previous careers, he sold insurance and mutual funds, and was a longtime retailer. He was educated at Memorial University of Newfoundland and the Northern Alberta Institute of Technology. His articles have appeared on numerous home and garden sites including GoneOutdoors, TheNest and eHow.