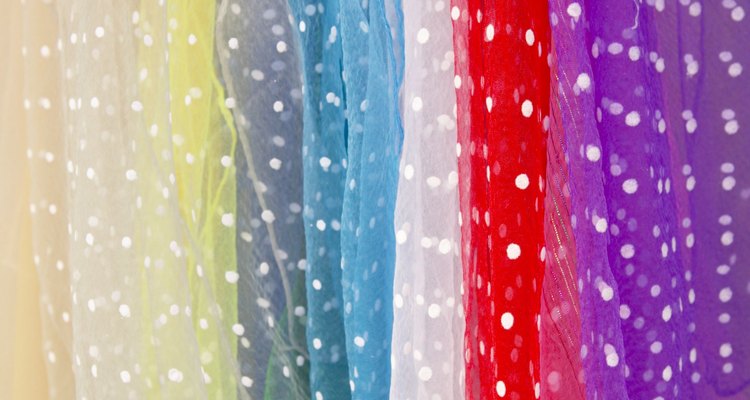 Jupiterimages/Photos.com/Getty Images
A lightweight, transparent fabric, chiffon is used for elegant evening wear as well as dressy blouses, slacks, dresses, lingerie and scarves, and for lining jackets or other garments. Because of the fabric's superior draping qualities, chiffon garments often feature flared skirts, gathers, ruffles or soft pleats. Originally constructed from silk fibers, chiffon now comes in synthetics such as polyester and rayon. Although synthetics are sturdier and easier to handle than silk, ironing chiffon requires a gentle touch to avoid stretching, tearing and overheating.
Step 1
Empty the iron's water tank and turn off its steam setting. Dry ironing is best, because chiffon is easily stained by water.
Step 2
Set the iron away from the fabric and preheat it to the delicate or silk setting before you begin. Even a small amount of water left in the tank may create permanent water spots if it sizzles and sputters on the fabric during preheating.
Step 3
Place the chiffon flat on the ironing board, and then smooth the fabric with your hands. Take your time, because wrinkles ironed into the fabric are difficult to remove.
Step 4
Iron the chiffon carefully, using a light, delicate touch. Avoid pressing hard, because chiffon stretches easily and may not return to its original shape. Move the iron over the fabric using smooth strokes. Keep the iron moving -- stopping in one spot for too long may create scorch marks.
Step 5
Hang your chiffon item on a padded hanger immediately to keep it wrinkle-free.
References
Tips
Use a clean ironing board cover when ironing chiffon, because a soiled cover may transfer marks and stains to the fabric. Read the care tag on the cover before laundering. Most ironing board covers are machine washable, but some heat-resistant covers may require special handling.
Warnings
Launder chiffon strictly according to the garment care tag. Although some chiffon fabrics are suitable for machine or hand washing, many, especially silk chiffon, require professional cleaning.
Writer Bio
M.H. Dyer began her writing career as a staff writer at a community newspaper and is now a full-time commercial writer. She writes about a variety of topics, with a focus on sustainable, pesticide- and herbicide-free gardening. She is an Oregon State University Master Gardener and Master Naturalist and holds a Master of Fine Arts in creative nonfiction writing.
Photo Credits
Jupiterimages/Photos.com/Getty Images