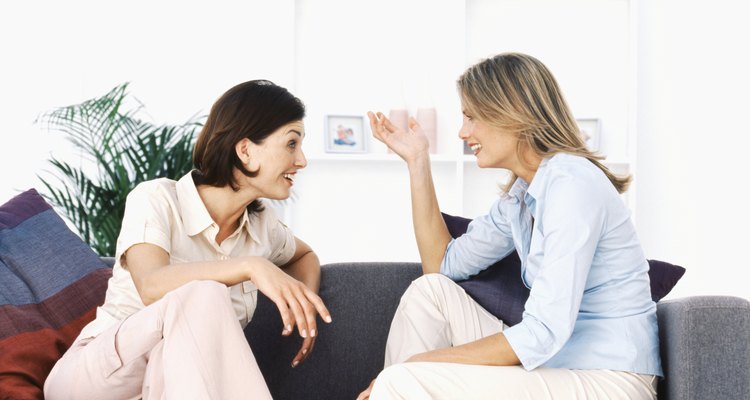 Stockbyte/Stockbyte/Getty Images
You're an overbearing sister and secretly proud of your role. After all, who is going to look after your brother better than you? But now he has another woman in his life -- his brand new girlfriend! Though you are tempted to grill her to death as soon as she walks into the door, slow down tiger! Focus on being nice to her and welcoming her into your family. This can go a long way toward maintaining your relationship with your brother and ultimately creating a bond with someone who may be eventually joining your family.
A Natural Rivalry
Families experience many changes over time, and as your brother swoons over his new angelic-faced beauty you may feel you are losing touch. Don't let feeling overshadowed carry you away. Changing times require changing methods to stay in touch. Focus on quality time with him instead of a ton of face time. Try to accept and cheer on this change in your brother's life.
If you're adamant on staying grim, don't let anyone fool you that your resentment will stay limited to your brother. It can spill over and put other family relationships in jeopardy as well. As Dr. Phil says on his website drphil.com, you can't be one kind of sibling and another kind of mother, wife or friend.
Up for Coffee?
Movies and shopping sprees with his girlfriend are a cool idea and may help you develop a bond with her independent of her relationship with your brother. You will be able to see her as an individual and not just the brother-thief, increasing both fondness and respect for her. However, friendship doesn't mean injecting your own ideas and opinions into the mix in order to influence their relationship. It's wise to be supportive of their relationship and try not to take sides.
Let Go of Superficiality
Get to know her. Ask about her job and aspirations, hobbies and interests. Whether she prefers a night out or an evening in, prefers an ebook or paperback. You never know when you may make a best friend for life. Genuine interest in someone's life rarely fails to spark up a friendship, especially with someone who is motivated to get to know you too, like your brother's girl.
Make a Connection
Remember that leather-jacket, spiked-hair phase your brother went through or the time when he won the best-athlete award? Why not cherish those golden memories (less the embarrassing ones) and photographs with her. As a sister you have an important role to play in building bridges.
References
Writer Bio
Nina Edwards holds a doctorate in clinical psychology and has been writing about families and relationships since 2000. She has numerous publications in scholarly journals and often writes for relationship websites as well. Edwards is a university lecturer and practicing psychologist in New York City.
Photo Credits
Stockbyte/Stockbyte/Getty Images