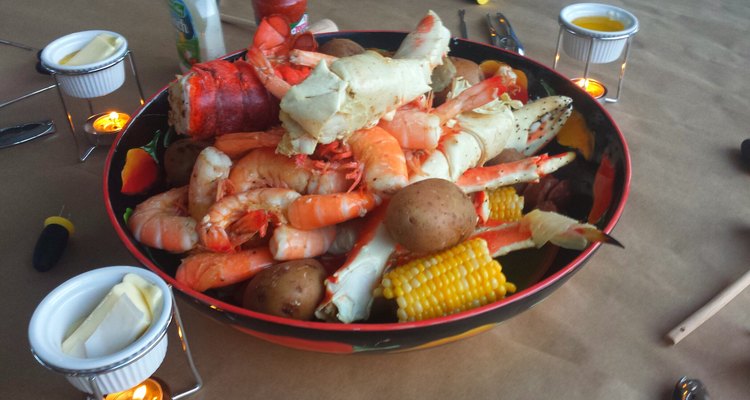 jkruse08/iStock/GettyImages
The South's answer to New England's clambake, a low country boil pairs shellfish with sausage and vegetables, all served from a steaming pot on a table covered with newspaper. Low country boil is a popular meal for large social gatherings, but can just as easily be made as a meal for two. While shrimp is most commonly cooked in a low country boil, many prefer to add crab or crawfish to give this dish a Cajun flair.
Fill a large stockpot with water and the juice of one or two lemons, plus beer, if desired. Throw the lemon pieces in the pot to add more flavor. Stir in a Cajun or shrimp boil seasoning blend and bring the mixture to a boil. Low country boil for a large crowd is usually made in large kettles over an open fire, but you can make the recipe for two in a pot on the stove top.
Add about 1 pound of small potatoes or halved medium potatoes to the boiling water and cook for about 10 minutes or until the potatoes are tender about halfway through. This provides half a pound of potatoes per person, but you can increase or decrease the amount of potatoes depending on the appetite of the two diners.
Drop corn into the boiling water with the potatoes. Assume at least one ear of corn per person, adjusting for larger appetites. Cut the corn into halves or thirds so the pieces are shorter. Boil for about five minutes.
Cut sausage into pieces about 4 inches long and add them to the pot. A 1 pound package of sausage is plenty to serve two people.
Add 1 to 2 pounds of shrimp immediately after adding the sausage, providing 1/2 pound to 1 pound per person. You can peel the shrimp beforehand, boil them whole with the heads intact, or remove the heads and leave the shell. This amount is easily adjustable depending on the appetites of the two people eating, but it never hurts to have leftovers. Substitute crawfish or live crabs for all or part of the shrimp.
Cook the shrimp for about three to four minutes or until the shrimp turns bright orange and opaque. Do not overcook the shrimp or the meat will have a rubbery texture and bland flavor.
Drain the water from the pot and dump the entire contents on a table covered with several layers of newspaper. It's okay to use a platter or large bowl, but low country boil is traditionally served in the middle of the table so everyone can just reach in and help themselves.
References
Tips
You can find numerous crab and shrimp boil seasoning blends near the seafood counter in your grocery store, but you can also make your own seasoning blend, using common ingredients such as pepper, salt, garlic powder, paprika, cayenne pepper, dry mustard and chili powder.
Writer Bio
A former cake decorator and competitive horticulturist, Amelia Allonsy is most at home in the kitchen or with her hands in the dirt. She received her Bachelor's degree from West Virginia University. Her work has been published in the San Francisco Chronicle and on other websites.