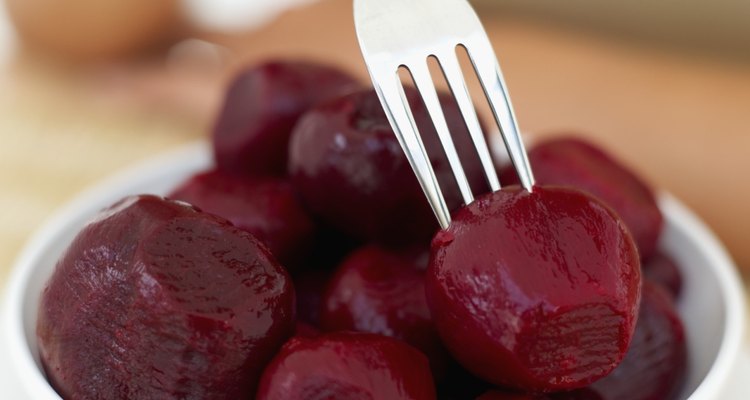 George Doyle/Stockbyte/Getty Images
Beets play heavily in Eastern European cuisine, with borshch and beet salads two of the most recognized dishes of the region; Ukraine, Poland and Russia all have a version. A basic Russian beet salad -- spelled phonetically as "salat iz svekly" -- comprises grated beets and 18-percent smetana, an Eastern-European sour cream with 18-percent fat. Many variations of Russian beet salad exist, though, so you'll find some versions with nuts, such as almonds or walnuts, and fruit, such as prunes, raisins or apples, depending on which part of the country you get it from.
Step 1
Bring a pot of salted water to a boil. Add whole, peeled beets and cook them until they pierce easily with a fork, about 45 minutes.
Step 2
Drain the beets and place them in a bowl of ice water to cool down, about 5 minutes. Pour off most of the water and add more ice when it melts.
Step 3
Pat the beets dry with paper towels when you take them out of the water and place them in a glass dish.
Step 4
Grate the beets into a glass or stainless-steel mixing bowl, using the medium-sized holes of a grater.
Step 5
Add sour cream to the beets at a 2:1 ratio, or 1 cup of sour cream for every 2 cups of grated beets.
Step 6
Season the beets with kosher salt and freshly ground pepper. Add one or more of the following ingredients to taste, if desired: crushed almonds, crushed walnuts, diced apples, raisins or prunes.
Step 7
Stir the beet salad to incorporate the ingredients using a stainless-steel spoon. Cover the salad with plastic wrap and place it in the fridge.
Step 8
Let the salad marinate in the fridge at least an hour to marry the flavors. Stir the salad again before serving.
Tips
You can use canned beets if beets are out of season; just drain them well first.
Warnings
Use glass or stainless-steel bowls and utensils when working with beets. Beets stain any porous surface.
Writer Bio
A.J. Andrews' work has appeared in Food and Wine, Fricote and "BBC Good Food." He lives in Europe where he bakes with wild yeast, milks goats for cheese and prepares for the Court of Master Sommeliers level II exam. Andrews received formal training at Le Cordon Bleu.
Photo Credits
George Doyle/Stockbyte/Getty Images