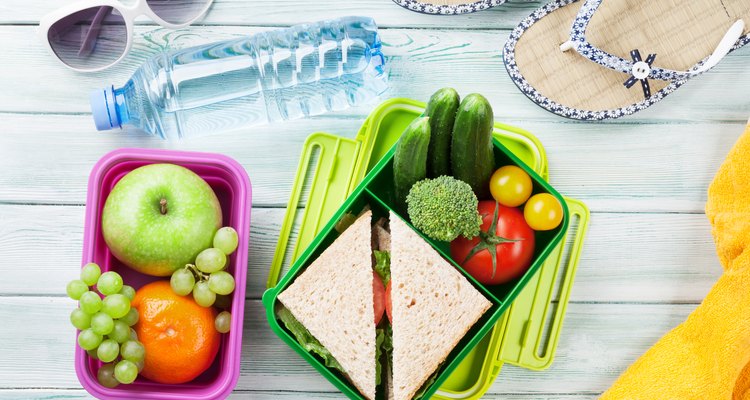 karandaev/iStock/GettyImages
Beach lunches can be a challenge, particularly if you have young children who want to scarf down their food quickly between playing in the sand and jumping in the water. As you plan a beach lunch, choose foods that are quick to put together and easy to eat.
Sandwich Rolls
For a fun and quick alternative to a traditional sandwich, make easy-to-eat roll-ups. Use whole wheat tortillas spread with hummus, avocado, or light salad dressing and pile on lean deli meats, spinach, and sliced vegetables. Roll the tortillas up and slice them into smaller pieces that your kids can pick up easily and eat between swims. If your roll-ups come apart, use a bit of extra dressing or hummus to stick them together.
Veggie and Fruit Sticks
The easiest beach lunches don't use many utensils. Cut up vegetables like bell peppers, carrots, celery, and cucumber and put them in plastic bags for easy transport. Pack a plastic container of salad dressing for dipping or bring along individual-size cups of veggie dip. You can also cut apple slices with cups of caramel dip for a healthy dessert; sprinkle a little bit of lemon juice to prevent the veggies from going brown.
Pasta Salad
Cold pasta salad is a tasty, filling beach lunch option. Toss cooked pasta with creamy Parmesan dressing to make the base salad. Add in vegetables that your kids will eat, like halved cherry tomatoes and chopped bell peppers, and toss in beans for protein. You can make the salad ahead of time to allow the flavors to set in or toss it together at the last minute. Instead of packing bowls, put the pasta into small plastic containers that can double as serving dishes at the beach. Bring along plastic forks or spoons for an easy meal.
Snack Mix
For a snack kids can grab when they have the chance, make a simple trail mix. Toss together small snack foods like miniature pretzels, dried fruits, nuts, and shredded coconut with dried spicy ranch dip mix. You can also throw in granola or sunflower seeds. Use foods you know your kids will eat and toss in a small amount of candy to make the healthier foods go down easier. Package the trail mix in plastic bags or in small containers for easy transport.
References
Writer Bio
Elizabeth Smith has been a scientific and engineering writer since 2004. Her work has appeared in numerous journals, newspapers and corporate publications. A frequent traveler, she also has penned articles as a travel writer. Smith has a Bachelor of Arts in communications and writing from Michigan State University.