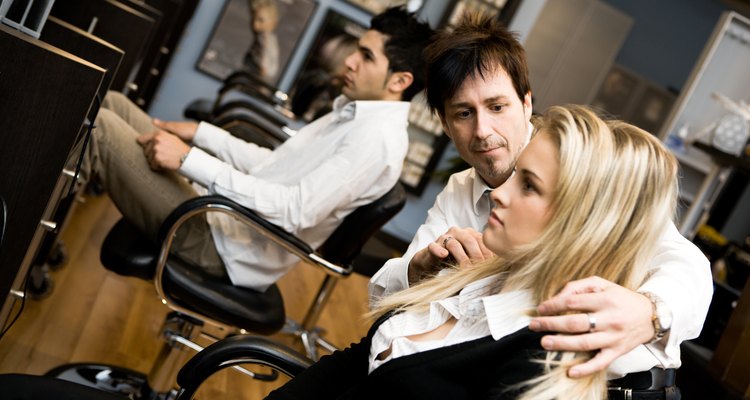 Jupiterimages/Photos.com/Getty Images
Hair extensions are a beauty device that allows men and women to change the length and style of their hair in moments. Though synthetic extensions that clip in the hair can be purchased inexpensively, they are more difficult to style and are more noticeable than their natural counterparts. Since natural extensions that are glued to the existing hair are often expensive, reusing them is an economical option. Once you've detached the extensions from the head, all residual glue must be removed from the extension. Otherwise, attempting to reuse the extension will result in the new glue not properly sealing to either the extension or the hair.
Line up hair extensions on a heavy cotton towel with the glued end facing up.
Apply one drop of glue remover to each strand covered by glue. Wait 15 seconds. Spread glue remover over entire glue chunk with a metal knife and let it set for an additional 10 seconds.
Grip the pliers around one of the glue chunks. Hold the base of the hair strands in one hand and wiggle or crack the glue loose. Add more glue remover and wait an additional 15 seconds if the glue doesn't come loose.
Dip the extensions in a tub or large bowl of warm water. Spread shampoo on extensions and work into a later. Rinse the shampoo from the extensions and place back in the tub.
Coat the extensions thoroughly in the conditioner, paying closer attention to the areas that were formerly covered with glue. Let the conditioner soak into the strands for 20 minutes and rinse.
Use a fine-toothed comb to untangle the strands and ensure that all glue has been removed.
References
"eXtensions: The Official Guide to Hair Extensions"; Theresa Bullock; 2004
Writer Bio
Kate Dolack served as a writer, producer and director of new series development for an independent documentary production company. Her programs have appeared on Investigation Discovery, PBS, CNBC, MSNBC, A&E and Discovery. Working in her field since 2005, Dolack holds a B.A. in film, television and journalism from the University of Notre Dame.
Photo Credits
Jupiterimages/Photos.com/Getty Images