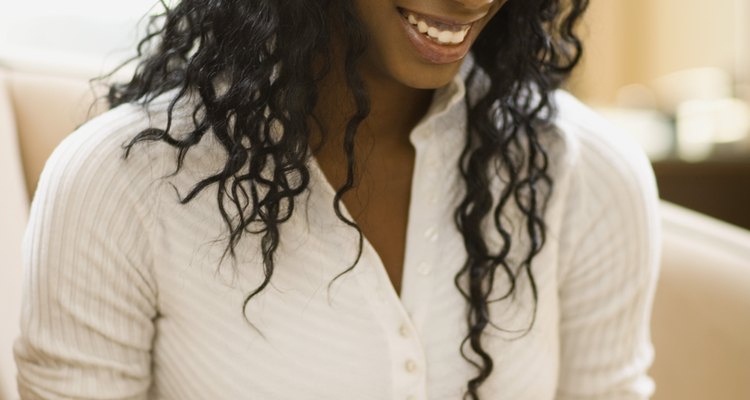 Jupiterimages/Brand X Pictures/Getty Images
A hair texturizer is a type of chemical relaxer that will essentially loosen the natural curl pattern of tightly coiled hair. Hair that has been treated with a hair texturizer will be more manageable and mold to different hair styles. To apply a texturizer to natural hair, you will have to make sure that you have the right supplies and products. Most of these items will be readily available at your local beauty supply store -- including your texturizer.
Shampoo and condition hair to remove product buildup that can interfere with the chemical process. Blot the hair with a lint-free towel to remove excess moisture. Detangle your hair with a wide-toothed comb.
Separate the hair into three or four sections. This will allow you to apply the hair texturizer along the whole hair shaft, completely saturating the hair with the product.
Use an alligator hair clip to secure each section into place. Apply a light coating of petroleum jelly along the hair line and on the scalp between the sections. This will prevent the chemical from seeping into the scalp, which can result in chemical burns.
Starting from the back section, pick up 3/4-inch-wide sections of hair and apply the texturizer with the applicator brush. Continue moving from the back of the head, toward the front, making sure to saturate each section with the hair texturizer. You can allow the texturizer to sit on the hair for a few minutes or you can gently comb the texturizer through the hair strands for a straighter look.
Leave the texturizer on your hair for about 15 to 20 minutes. Do not pass 25 minutes -- this will potentially result in brittle hair strands. If your hair has already been chemically altered, keep the texturizer on the hair for a maximum of 10 minutes -- chemically processed hair tends to be more porous than virgin hair, allowing for the texturizer to straighten the hair faster.
Rinse out the texturizer with lukewarm water. Remove excess moisture by blotting the hair with a towel. Apply the neutralizer onto the hair, making sure to coat every hair strand. The neutralizer will halt the chemical process. Leave the neutralizer on for about 10 minutes.
Rinse the neutralizer out of the hair for about five minutes to completely remove any traces of the neutralizer and the texturizer. Apply a conditioner to replenish the lost moisture from the chemical process. Towel dry the hair and style it as usual.
References
Writer Bio
Cesar Castro has been a professional writer since 2010. In that time, he's gained an aggressive understanding of online marketing. By utilizing his Bachelor of Arts in business administration, he has gained core competency in information systems and business sectors.
Photo Credits
Jupiterimages/Brand X Pictures/Getty Images