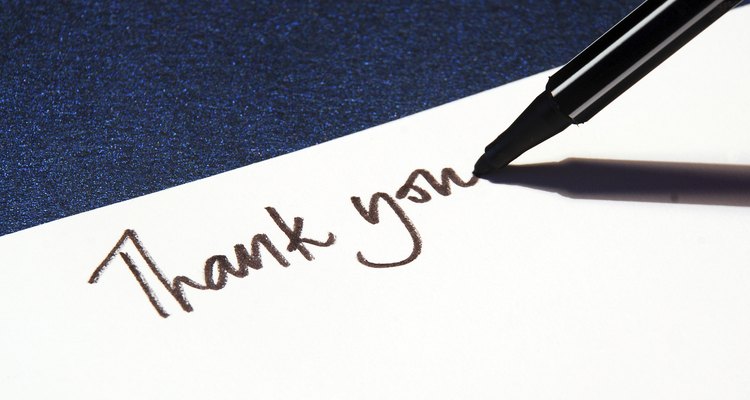 draganajokmanovic/iStock/Getty Images
In an age when some organizations ignore even the most rudimentary of manners, a personal note of thanks can make an important and long-lasting impression. People who have supported your event either financially or with their time will appreciate the fact that you care enough to write a personal note, no matter the wording. Just send it within two days of the event.
Thanks for Financial Support
If you are writing in an official capacity, use note cards with the organization's logo. Otherwise, personal stationery is fine. Don't type it and don't use formal language; sound like yourself. If the event was a fundraiser, tell the recipient how her financial support is vital to the organization, using specifics. Let her truly feel the good she is doing. You don't want to ask for anything else, but you can invite her to another non-fundraising event, or to join the organization on social media.
Thanks for Personal Involvement
Thanking people for their time can be a little different than thanking them for money. Public recognition goes a long way in showing your sincere appreciation for their efforts. So, the very next morning, send out a collective email to all involved, expressing how they are directly responsible for the success of the event. Be specific in recognizing each person in the body of the email, stating what they did. You can then send out a personal note to all of the participants, thanking them for the time, their commitment and energy. Let them know that their work directly affects the cause for which the event was held: they aren't just making centerpieces, they are helping keep poor youth off the streets, saving lives and creating futures.
References
Writer Bio
Nate Lee was senior editor of Chicago's "NewCity" newspaper and creative director in a global advertising agency. A playwright and published poet, Lee writes about the arts, culture and business innovation. He received his Bachelor of Arts in English from Tulane University.
Photo Credits
draganajokmanovic/iStock/Getty Images