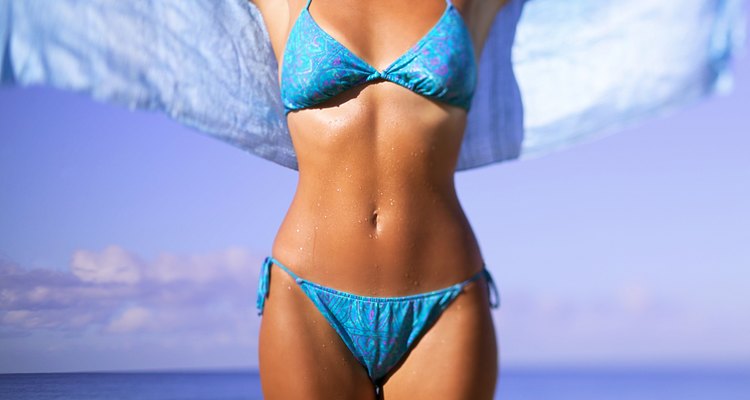 Jupiterimages/Comstock/Getty Images
The approach of bathing-suit season will have you scrambling to get your bikini line trimmed and ready. Sometimes shaving with a hand razor can leave unwanted nicks, bumps and uncomfortable razor burn. Shaving with a good electric razor will leave your bikini line looking clean and smooth no matter what type of suit you plan to show off at the pool or the beach.
Trim the area first with a pair of small trimming scissors. Make sure you trim the hairs close--long hairs could get caught in an electric razor and pinch you.
Take a warm bath or shower to clean away any hair and to soften the skin before shaving. Thoroughly clean the area, and dry with a towel.
Find a comfortable position that will allow you to easily access the area while shaving. You might want to shave in front of the mirror to watch as you're shaving.
Turn your razor on, and use your hand to hold the skin tight.
Shave gently in an upward direction without pushing into the skin. Shaving against hair growth provides a closer shave, giving you smoother skin. Note that if you have not warmed the hair follicles before shaving, going against the hair growth could irritate your skin.
Rinse the area after shaving. Loose hair left behind could cause itchiness and irritation.
Inspect the area to make sure there are no unshaved spots. If you find spots you missed, shave them and rinse the area again.
Moisturize regularly between shaves to keep the stubble soft as the hair starts to grow back.
References
Writer Bio
Jennifer Hudock is an author, editor and freelancer from Pennsylvania. She has upcoming work appearing in two Library of the Living Dead Press anthologies and has been published in numerous print and online journals, including eMuse, Real TV Addict and Strange Horizons. She has a Bachelor of Arts in English/creative writing from Bloomsburg University.
Photo Credits
Jupiterimages/Comstock/Getty Images