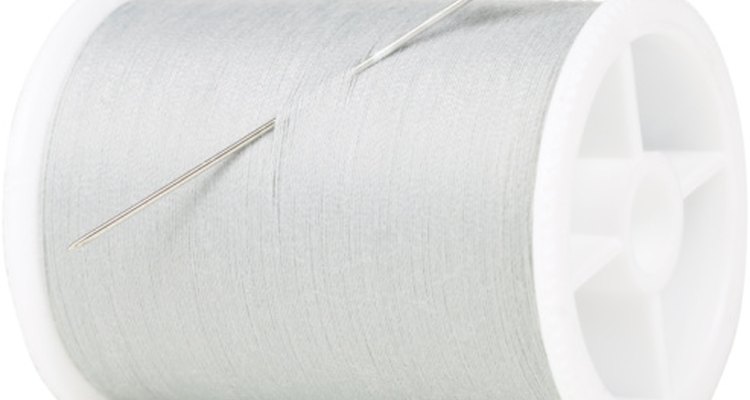 Hemera Technologies/PhotoObjects.net/Getty Images
Pants that are too long can often drag on the ground and wear much more quickly than those that are hemmed to the proper length. The best way to prevent frayed cuffs is to ensure that your pants fall about an inch above the back of your shoe. If you do have frayed cuffs it is possible to extend the life of your pants with a simple repair job.
Lay out the pants with the frayed hem on a flat surface and smooth them out. Using a washable marker make a mark on either side of the pants where the fraying stops.
Fold the hem of your frayed pants under, or if they're long enough, cut off any excess first and then fold under. Use your marks on each side of your pants as your guideline for how much to fold under.
Flip the pants inside out from about the knee down. Follow the top of the turned up cuff and sew it onto the inside of the pants. You can start by doing a few stitches on both sides and then do the final stitching. If you have a sewing machine, you can use it for a more polished seam. Otherwise, hand stitch carefully from the inside with the same color thread as the pant.
Flip the pants outside in and adjust your iron for the appropriate setting for the material. Iron along the cuff until it's flat. You now have pants that are adjusted to the correct length without fray.
References
Writer Bio
Andre Zollars started writing in 1999, when she worked in the editorial department at "The Missoulian." She has been published in "Endovascular Today," "High Country Angler," "Outside Bozeman" and "Western Ag Reporter." She also has written for online magazines New West, Hunting and Fishing USA. Zollars holds a Bachelor of Arts in international studies from the University of Washington.
Photo Credits
Hemera Technologies/PhotoObjects.net/Getty Images