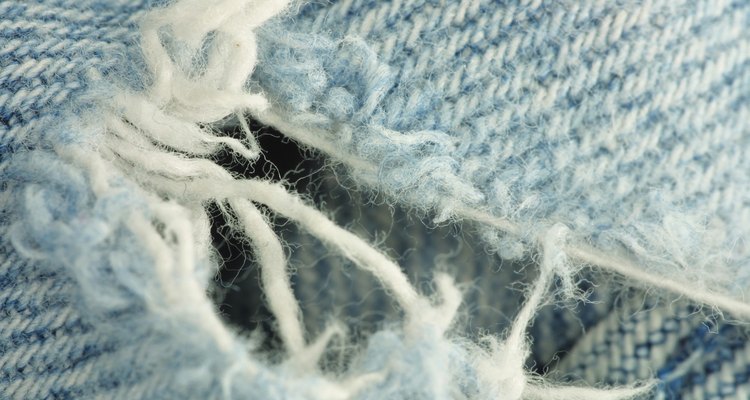 Photos.com/Photos.com/Getty Images
In the fashion world, wearing clothing in perfect condition isn't always considered aesthetically pleasing. In many cases, wearing tattered clothing and jeans, in particular, can create a of vintage appeal that can be quite stylish. To achieve this look, certain modifications must be made to the clothing.
Put on the clothing you wish to augment and use your chalk to outline the areas you want to tatter. This way you can pinpoint exactly where you want to place rips, tears and fraying while making it look natural. Tatters occur randomly naturally in old clothing, so you can use any design and placement you like.
Take off the clothing and lay it out on a sturdy table or surface that you don't mind potentially scratching. Never work on a delicate surface you don't want scratched.
Use scissors to cut holes into your intended areas. This can be effectively done by first folding the clothing and cutting a small hole within the parameters of your chalk lines. Then, unfold the clothing and keep cutting until the hole is your desired sized. Be sure to leave approximately 1/2 inch of fabric between the circumferences of the chalk line. This is because the hole will become larger once your clothing is washed.
Rub sandpaper over some large, random areas on your clothing. If you are using jeans, then going over the knee and thigh areas is ideal. This will create a frayed, worn style which should look natural.
Use a scalpel or small, sharp knife to tatter some of the smaller areas of your clothing. Rub the edge of the blade back and forth on the intended areas. If you are using jeans, concentrate on the areas around the front and back pockets.
Wash your clothing afterward. This will get rid of the chalk markings and make your clothing appear more natural.
References
Writer Bio
Nick Mann has been a writer since 2005, focusing on home-and-garden topics. He has a bachelor's degree in psychology from the University of North Carolina at Asheville.
Photo Credits
Photos.com/Photos.com/Getty Images