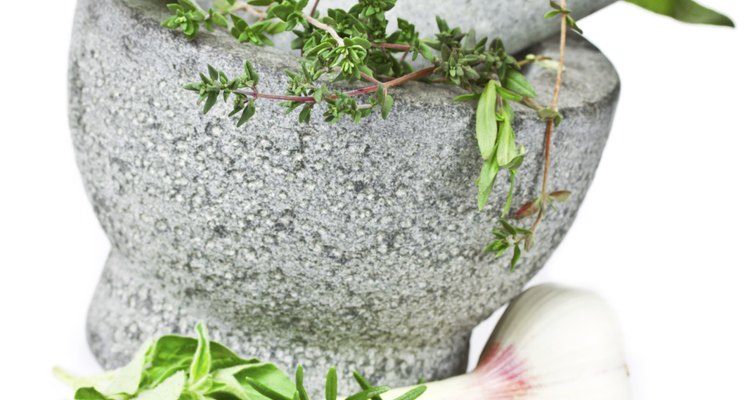 PicLeidenschaft/iStock/Getty Images
Sauces flavored with rosemary and thyme are a nice finish for entrees featuring meat, poultry, fish and even vegetables. With their aromatic and somewhat citrusy qualities, the fresh herbs add brightness and depth to whatever foods they are flavoring.
Herbed Compound Butter
Sliced into rounds, compound butter makes an instant sauce over steamed vegetables, fish or chicken. Make it by combining about 2 tablespoons each of chopped rosemary and thyme per half-cup of softened butter, seasoned to taste with salt and pepper. Roll the butter mixture in plastic wrap to make a log form and refrigerate until you are ready to serve.
Mustard Sauce
Fresh herbs combined with mustard create a sauce that can stand in for tartar sauce for fish. Or serve it as a dipping sauce for grilled or roasted meats. Mix half-cup of whole-grain mustard with about 2 teaspoons each of chopped rosemary and thyme. Season to taste with salt and pepper.
Pan Sauce
Make a pan sauce by adding liquid to the drippings and browned bits left behind after sauteing meats and vegetables. Use wine or stock, and scrape the bottom of the skillet to loosen the browned bits and stir them into the sauce. Add generous amounts of chopped rosemary and thyme to the skillet. Once the liquid has started to boil, turn down the heat and let it reduce to about a half-cup. Turn off the heat and remove the pan from the stove, then swirl in about a tablespoon of cold butter. Season to taste with salt and pepper.
Herbed Gravy
Gravies are sauces that are thickened with flour or cornstarch. Combine the drippings from a roast with wine, stock or a mixture of the two to get the volume of gravy you want. For every cup of liquid, measure 1 tablespoon of butter or fat reserved from roast and 1 1/2 tablespoons of flour. Whisk the butter and flour mixture in a large saucepan over medium heat for about two minutes. Gradually add in the liquid, a half-cup at a time, and whisk until you have incorporated all of the liquid. Cook for five minutes, then strain through a sieve to catch any lumps. Stir in about a quarter-cup of freshly chopped rosemary and thyme, then season to taste with salt and pepper.
References
Writer Bio
Christi Flaherty has been writing food blogs since 2005 and has been a featured publisher with Daily Buzz Food since 2010. Though she has cooked since she could walk, she dedicated her career to all things food after attending a two-week course at the Culinary Institute of America in Napa Valley.
Photo Credits
PicLeidenschaft/iStock/Getty Images