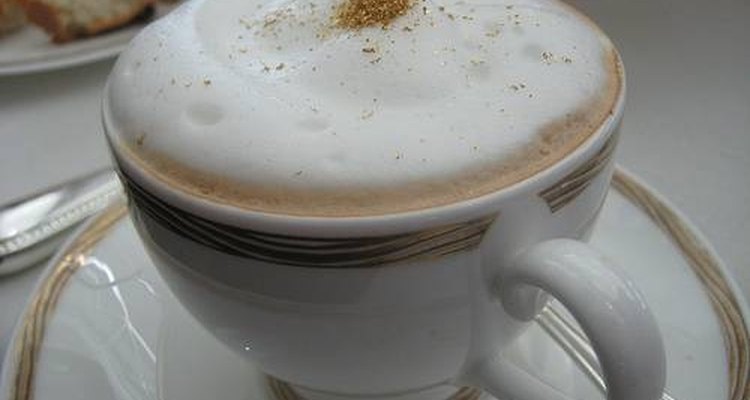 Jay Tamboli
A foamy cup of cappuccino doesn't have to be so expensive. You can make a cappuccino at home in any flavor you want, such as English toffee. This drink is extremely simple to make and takes very little time or ingredients. Make cappuccino at home and you can have one whenever you want.
Get your bag of English toffee. If it's not already crushed then take a towel and wrap the bag in it. Use a hammer and hit the towel-covered bag of toffee until it's crushed. Measure out ½ cup of the crushed English toffee and pour it into a food processor.
Add the instant coffee granules, white granulated sugar and dry chocolate drink mix to the toffee in the food processor. Mix all of the items together until they are powder and then pour into a container so the remaining powder can be stored for later use. Brown sugar can be used instead of white granulated sugar.
Put the water in a small sauce pan and heat on high until it starts to boil. Next, add three tablespoons of the cappuccino mix into a mug. Pour the hot water over the cappuccino mix and stir to dissolve the mix.
Pour the cold milk into a small sauce pan. Heat it on the stove at medium high until the milk gets hot but don't let it start to boil or the milk won't foam correctly. Slowly use the whisk to stir the milk. As the milk heats up, stir faster with the whisk until the foam starts to thicken slightly.
Take the pan off the stove and let it rest for about 30 or 40 seconds. Use a spoon to gently hold the foam back and pour the hot milk into the mug until it's three quarters of the way full. Next, spoon a dollop of the foam into the mug of cappuccino. Enjoy your English toffee cappuccino.
Tips
You can heat both the water and the milk in the microwave in microwavable containers. An electric blender or food processor can be used instead of a whisk to make the foam.
Writer Bio
Maryelser is a full time freelance writer. She specializes in cooking, gardening and crafts and has published numerous articles on eHow.com.
Photo Credits