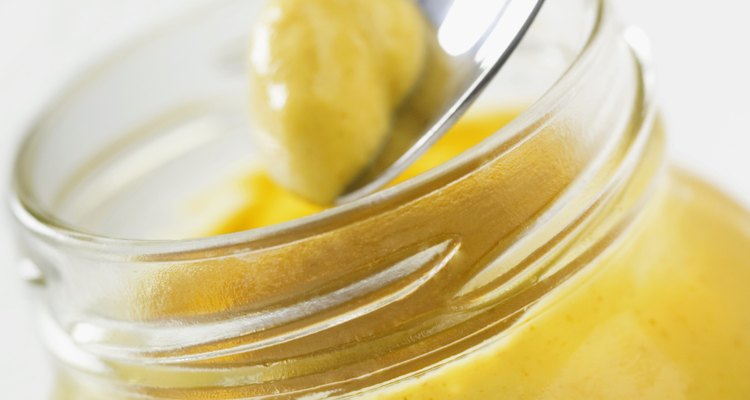 Medioimages/Photodisc/Photodisc/Getty Images
English mustard is spicy and has a bright yellow color. Made from a combination of white, brown or black mustard seeds, turmeric and flour, it has a distinct flavor and heat. You can use English mustard in recipes or as a condiment. When substituting English mustard, look for a substitute that offers that bitter note of mustard, but still packs a little heat.
Try Creole Mustard
Creole mustard is a coarse, prepared mustard that is hot and has a similar texture to English mustard. Creole mustard is more of a dingy yellow than bright like English mustard, but this is because it doesn't contain turmeric. Use Creole mustard in equal proportions to English mustard in your recipe.
Get Some Chinese Mustard
Traditionally, Chinese mustard is served as a dipping sauce. It is made from mustard powder and water, and then mixed with wine until it turns into a paste. Chinese mustard is spicy; therefore, use it in equal proportions to English mustard in your recipe.
Use Spicy Brown Mustard
Brown mustard is an American mustard made from the brown mustard seed. It is used in recipes and as a condiment on sandwiches and it is considered a coarse, prepared mustard like English mustard. It isn't as spicy as English mustard, but you can use it if you are looking for a sweeter mustard. Use 1 tablespoon of brown mustard for every 2 tablespoons of English mustard and add more to taste.
Try Horseradish
Prepared horseradish is creamy and spicy. It offers a similar heat to English mustard, but doesn't have the yellow color or vinegary aftertaste. Use horseradish as-is or mix it with a little Dijon mustard to replace English mustard in your recipe. Since horseradish has a distinct flavor, use a ratio of 1 part horseradish to 4 parts English mustard and add more, as needed for taste.
Wagarashi
Wagarashi is a Japanese mustard made from brown mustard seeds. It has a sharp, very spicy flavor similar to English mustard. Wagarashi isn't used as a condiment; instead, it is used as a seasoning and in small quantities because of its pungent flavor. Wagarashi is spicier than English mustard; therefore, use 1 part Wagarashi for every 2 parts English mustard.
References
Writer Bio
Shailynn Krow began writing professionally in 2002. She has contributed articles on food, weddings, travel, human resources/management and parenting to numerous online and offline publications. Krow holds a Bachelor of Science in psychology from the University of California, Los Angeles and an Associate of Science in pastry arts from the International Culinary Institute of America.
Photo Credits
Medioimages/Photodisc/Photodisc/Getty Images