Tank tops are staples during the summer season, but they can be pretty mundane. For an unconventional twist on the standard tank, create ties along the bottom. This simple reconstruction technique is easy enough for beginner crafters. The finished product can be worn with denim shorts or layered over a bathing suit.
Items you will need
Plastic bin
Plastic tablecloth or tarp
Liquid fabric dye
White tank top
Fabric scissors
Rubber bands
Water
Washing machine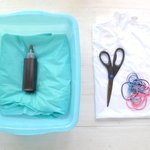 Tips
For easy application, store the liquid dye in a plastic squeeze bottle.
Step 1Step 2Step 3Step 4Step 5Step 6Step 7Step 8Step 9Step 10Step 11Step 12