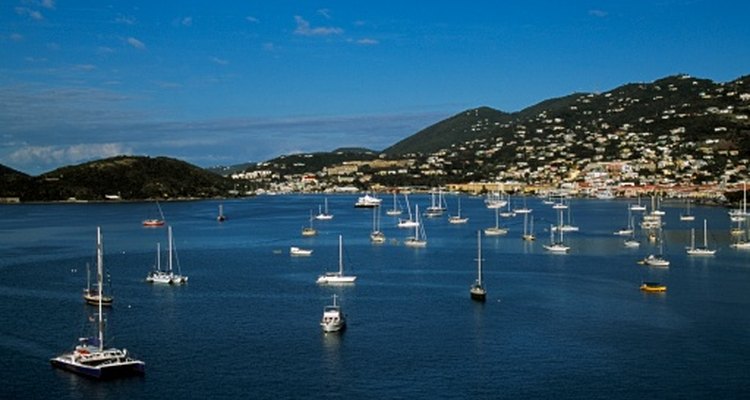 Design Pics/Valueline/Getty Images
The Navy khaki uniform has a surprisingly long history. The uniform first made it appearance in 1912 when worn by the first naval pilots. After that point, the uniform grew in popularity. After 1941 the khaki uniform was approved for wear by naval officers. As of 2010, the Naval khaki uniform is worn by few naval personnel, but the California Maritime Academy and other naval institutions wear the Khaki uniform. Ironing the uniform is a straightforward process.
Turn the uniform inside out. Both the shirts and pants are ironed in the same way, from the inside out.
Set up the ironing board. Fill the iron with water for the steam function and set to the synthetic fabric setting. Dampen an old sheet to act as a barrier between the iron and the uniform. This produces a more even heat and prevents the iron from melting the uniform fabric.
Start by ironing the pants. Lay the pants out, wrong side out, flat along the ironing board. Keep the seams of the pants on either side of the pant leg, rather than together like some other pant ironing techniques. The creases in the pants should be along the seam rather than between the seam.
Lay a damp sheet over the pants and iron over the sheet to protect the synthetic fabrics. Spray the uniform with starch to help retain the creases and to make a crisper looking uniform. Iron the waist of the pants by opening the top of the pants and sliding them over the end of the ironing board. Iron the seat and crotch of the pants with no creases. Hang the pants on a hanger wrong side out to retain the creases as long as possible.
Lay the khaki shirt over the ironing board wrong side out. Remove all large wrinkles by hand. Fold the shirt in half down the middle of the back, laying one sleeve over the other. Make sure all large wrinkles are out before starting to iron.
Spray the shirt with starch. Lay the damp sheet over the shirt and iron the shirt. Iron the back of the shirt, then iron the sleeves. Turn the uniform over and iron the other side of the shirt in the same way.
Open the shirt and lay it flat against the ironing board. Remove any additional visible wrinkles with the iron. Hang the shirt on the hanger.
References
"U. S. Navy Uniforms in World War II Series: U. S. Naval Amphibious Forces;" Jeff Warner; 2007
Writer Bio
Brenda Priddy has more than 10 years of crafting and design experience, as well as more than six years of professional writing experience. Her work appears in online publications such as Donna Rae at Home, Five Minutes for Going Green and Daily Mayo. Priddy also writes for Archstone Business Solutions and holds an Associate of Arts in English from McLennan Community College.
Photo Credits
Design Pics/Valueline/Getty Images