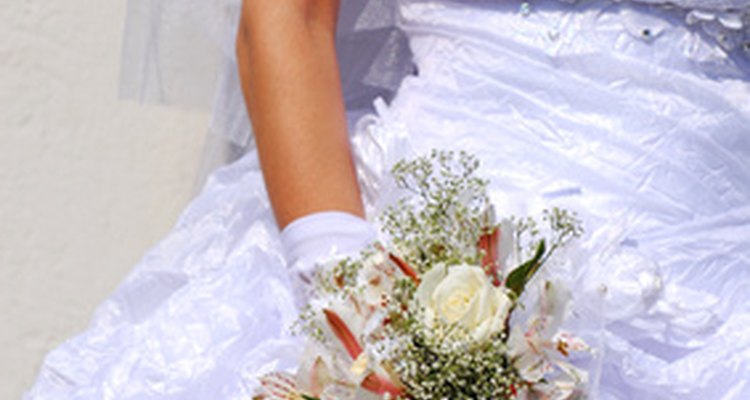 Wedding bouquet the bride on background of wedding dress image by Aliaksandr Zabudzko from
Fotolia.com
Many brides do not want to have tan lines for their wedding, especially if they are planning to wear a strapless wedding dress. Luckily, there are a number of things which can be done in order to fix this problem. Women who want to get rid of tan lines before their wedding should be aware that it is best to begin trying to fix the problem as early as possible. Otherwise, it will be more challenging to get rid of tan lines in time for the wedding.
Go outside in the sun with less clothing. If the tan occurred when you were outside wearing a tank top, for example, it is ideal to go back outside for the same amount of time in a strapless shirt. This is one of the easiest and most affordable ways to get rid of tan lines. Outdoor tanning may not be the easiest way to get rid of tan lines before a wedding if the weather does not allow for it, however. Avoid overexposure to the sun to prevent burning, skin damage and, in the long term, skin cancer.
Consider using a tanning bed. This can be one of the easiest ways to get rid of tan lines before a wedding, as it does not rely on the weather. Many people also find that tanning beds allow them to get tanner more quickly and without burning than the sun. To get rid of tan lines quickly, visit the tanning salon two to three times a week. According to the American Cancer Society, regular use of tanning beds do greatly increase the risk of skin cancer.
Use a sunless tanning lotion. When applying the lotion to the skin, be sure to evenly blend it into the areas where there are tan lines. Keep in mind that self-tanning lotions should not be applied to areas of skin which are prone to sweating, such as the underarms. Self-tanning lotion may stain a white wedding dress if sweating does occur.
Think about getting a spray tan. Spray tans are considered safer alternatives than indoor tanning. The machine will spray tanning lotion over the skin, which will ultimately help reduce the appearance of tan lines. This can be a good option for those who do not want to spend hours in the tanning bed, as it only requires one application.
Try alternative options to getting rid of tan lines. If it is getting closer to the wedding and it doesn't seem possible to get rid of tan lines, consider what else can be done. Some women may want to wear a sleeved cover-up in order to hide tan lines. Cover-up, when carefully and evenly applied to the skin, can also be a good way to cover tan lines in time for a wedding.
References
Writer Bio
Jody Morse has worked as an assistant wedding deejay and has also dabbled in wedding planning. As a sufferer of endometriosis, Morse enjoys writing on women's health topics. Her work has appeared on WomansDay.com, CNN.com, theFrisky.com and other websites. She has a Bachelor of Arts in English with a concentration in writing from East Stroudsburg University of Pennsylvania.
Photo Credits
Wedding bouquet the bride on background of wedding dress image by Aliaksandr Zabudzko from Fotolia.com