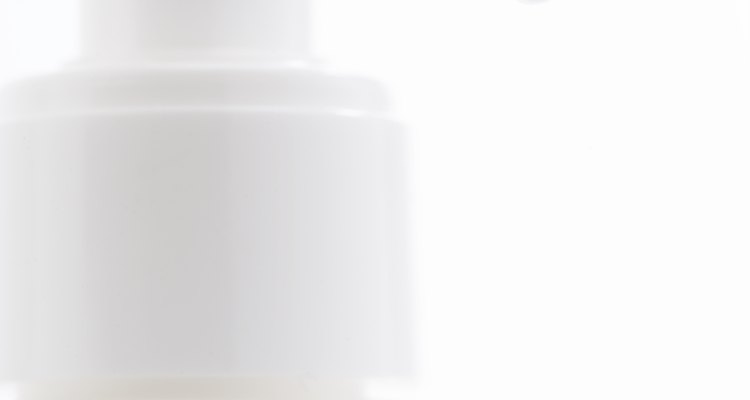 Martin Poole/Digital Vision/Getty Images
Liquid soap can be used to clean leather jackets if you apply it properly. However, a liquid soap spill, especially if the soap contains perfume or other additives, can set into the leather and appear unsightly. It is easy to remove a fresh liquid soap stain or spill from a leather jacket, and even removing a neglected and set stain is not difficult. Fresh soap stains are best removed with a wet sponge, whereas cleaning the jacket with saddle soap or leather cleaner will remove a set-in soap stain.
Moisten a soft, clean cloth with water. Blot as much soap as possible from the jacket with the cloth.
Moisten a sponge with water and work any remaining soap into a lather. Rinse the sponge thoroughly with water and remove any traces of soap or suds from the jacket.
Allow the jacket to air-dry away from any sources of artificial heat or direct sunlight. Check the area that you cleaned to see if the spot is still visible after a few hours of drying.
If the stain remains visible, moisten a clean, dry cloth and rub it over the surface of an open can of saddle soap to work up a lather. Rub the cloth over the remaining stain and the surrounding area of your jacket. Moisten another cloth and wipe away the excess lather.
Allow the jacket to air-dry and then buff the area with a soft, clean cloth.
Once the jacket has dried completely, apply a leather conditioner to the entire outer surface of the jacket according to the package directions.
References
Writer Bio
John DeMerceau is an American expatriate entrepreneur, marketing analyst and Web developer. He now lives and works in southeast Asia, where he creates websites and branding/marketing reports for international clients. DeMerceau graduated from Columbia University with a Bachelor of Arts in history.
Photo Credits
Martin Poole/Digital Vision/Getty Images