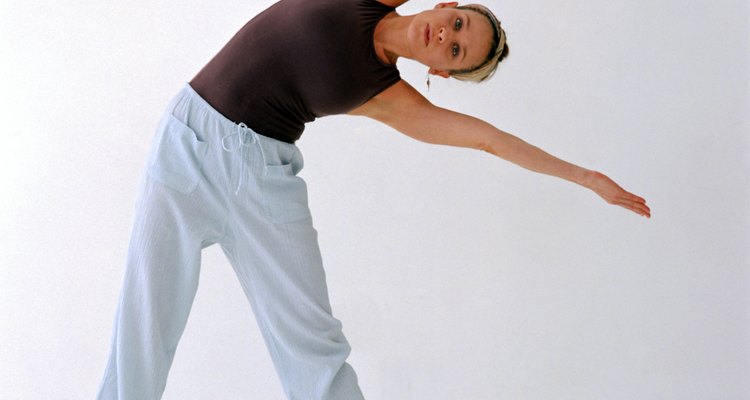 Creatas Images/Creatas/Getty Images
Wearing comfortable clothes during a workout is a must, but if your jogging pants start to sag, you will end up spending more time trying to keep them up than burning calories. Fixing your jogging pant's saggy elastic will eliminate the problem and make the pants fit your waistline better. You do not need any special equipment; a basic sewing kit will work fine.
Measure your waist to determine how long you need your elastic to be. Add an inch to give you some room for sewing. If you want the jogging pants to be extra tight to withstand lots of movement, make the elastic a couple inches smaller than your waist. You can use any elastic, but an elastic specifically made for waistbands will resist rolling and hold up better.
Find the pant's back seam line, and use the seam ripper to remove the threads that create the back seam line.
Clip your bodkin to one end of elastic and push the ring to the elastic so that it is tight. If you do not have a bodkin elastic threader, you can use another safety pin to thread the elastic.
Push a safety pin through the other end of the elastic.
Hook the safety pin on the pants near the hole you made with the seam ripper.
Thread the side with the bodkin or other safety pin through the waistband on your jogging pants. Keep threading until the elastic is pulled all the way through.
Pin a safety pin through both pieces of elastic one you have threaded through the entire waistband.
Put the pants on to see if the elastic is an appropriate width. When you determine the correct width, place another safety pin through the two pieces of elastic at the correct width.
Thread a sewing needle and sew the pieces of elastic together with a basic straight stitch.
Push the elastic back into the waistband, making sure it does not twist.
Pin the back seam back together and sew it closed in the same spot it was originally sewn.
References
Writer Bio
Katie Tonarely started writing professionally in 2008. Her work appears in the Springfield "News-Leader" and she provides consumer-related content for various websites. Tonarely received a Bachelor of Arts in English education with a minor in journalism from Evangel University in Springfield, Mo.
Photo Credits
Creatas Images/Creatas/Getty Images