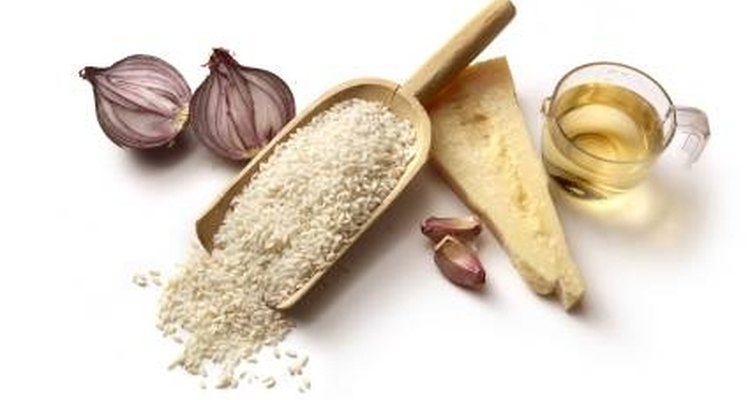 Floortje iStockphoto
In the Northern regions of Italy, rice is a staple. Carnaroli is Italian short-grain white rice that is known for its texture. Comparatively larger than Italian Arborio rice, Carnaroli rice has an outer creamy texture and inner firmness. Arborio is short-grain rice that produces slightly chewy rice with an outer creamy texture. A good Italian rice dish begins with its broth. Cook Arborio rice in risotto or serve Carnaroli rice for dessert in a creamy pudding.
Make Parmesan Risotto. Heat olive oil in a heavy-bottomed eight quart pot on medium heat. Add chopped onions and sauté until translucent, approximately three to four minutes. Onions should not be browned. Add minced garlic. Stir in mushrooms. Cook until soft for about three minutes. Remove onions and mushrooms and set aside. Add Arborio rice and sauté in the oil. Stir until edges of rice look transparent. The olive oil will coat the rice with its delicate flavor.
Add liquid (wine or juice) and sea salt. Stir until liquid has been absorbed. Add ½ cup of broth to rice at a time. Keep rice and liquid at a simmer. Stir constantly. Continue to add broth ½ cup at a time, allowing the rice to absorb the liquid. When the last of the broth is nearly absorbed and rice is al dente, remove from heat. Stir in the mushrooms, onions and Parmesan cheese. Season the risotto with sea salt and pepper to taste.
Prepare an Italian rice pudding. Preheat oven to 325º. Spray the bottom of a 2 ½ quart baking dish. Spread out Carnaroli rice in the prepared baking dish. Top the rice with ½ cup of sugar. Sprinkle nutmeg on top. Combine beaten egg with almond milk. Slowly pour the almond milk mixture over the sugar. Stir to thoroughly combine.
Bake ½ hour and then take the rice pudding out of the oven. Stir rice pudding mixture to evenly cook the rice. Place rice pudding back into the oven for another ½ hour or until most of the almond milk is absorbed. Remove from oven. Let cool to room temperature. Transfer pudding to individual ramekins. Sprinkle with ½ tsp. of cinnamon and toasted almonds.
References
Writer Bio
Dawn Renée Levesque has been a writer for over 30 years. Her travel and fashion photographs have been exhibited in Europe and the United States. As a member of the Society of Children's Book Writers and Illustrators, Levesque is the author of "Women Who Walk With the Sky" and co-author of "Wisdom of Bear." She holds a Bachelor of Fine Arts in photography.
Photo Credits