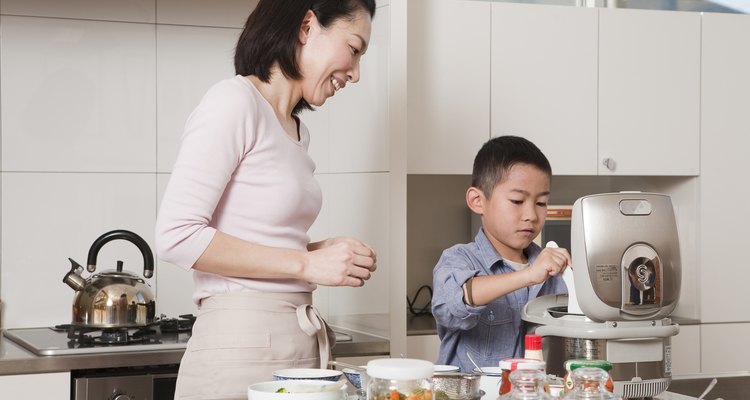 MIXA next/MIXA/Getty Images
Ruby red jasmine rice is a hearty, long-grain rice with a deep, reddish brown color. This whole-grain rice, which is native to Thailand, contains 2 grams of fiber and 4 grams of protein per serving. The hearty, toothsome texture and robust flavor pair well with a variety of flavors, including curry spices, garlic, ginger and star anise. Serve ruby red jasmine rice hot or cold.
Measure 1 cup of rice for every four servings if the rice is a side dish. If ruby red rice is a significant part of your meal, you can allow 1/3 cup to 1/2 cup dry jasmine rice per serving. Add the rice to the cooking pot.
Pour 2 cups of water into the pot for each cup of rice you've added. Use chicken or vegetable stock instead of water for more flavorful rice.
Season with 1/2 teaspoon to 3/4 teaspoon of salt if you're preparing 1 cup of dry ruby red jasmine rice. Increase the amount of salt accordingly if you're serving a crowd.
Add 1 tablespoon of butter to the pot.
Bring the rice and water mixture to a boil over high heat. Reduce the heat to low, and cover the pot with a tight-fitting lid. Simmer gently for 50 to 60 minutes until the water is absorbed.
Remove the lid and drape a towel over the hot pot. Replace the lid. Allow the rice to sit covered like this for 10 minutes before serving.
References
Writer Bio
With a master's degree in art history from the University of Missouri-Columbia, Michelle Powell-Smith has been writing professionally for more than a decade. An avid knitter and mother of four, she has written extensively on a wide variety of subjects, including education, test preparation, parenting, crafts and fashion.
Photo Credits
MIXA next/MIXA/Getty Images