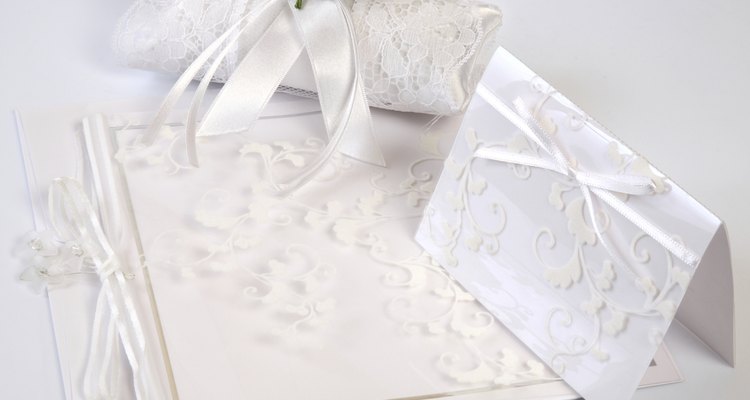 Yildizbasoglu/iStock/Getty Images
Many people choose to use inner and outer envelopes when mailing their wedding, birthday or fundraiser invites. When you use only the outer envelope, you may run into some addressing issues, especially when sending invitations to families or to single guests who can bring along more guests.
Addressing Envelope to Families and Couples
If you are inviting a family to your wedding, list all of their names on the outer envelope. The top address line should name the parents: Mr. and Mrs. John Doe. Beneath their names, list the first names of minor children who live with them. Adult children should receive separate invitations. For couples without children, write their names on the top line. When the last names are different, write the woman's name first. For same-sex couples, write the names in alphabetical order.
Addressing Envelopes to Multiple People
When multiple adults living at one address are invited to your wedding, each receive should her own invitation. If budget constraints make that impossible and you only are using an outer envelope, place each of the invited individual's names on a separate line.
Addressing Envelopes to Singles
Besides keeping the invitation from being damaged, the inner envelope provides a place to let a single invitee know he may invite a guest. Since adding that information to the address on the outer envelope seems awkward, the best solution is to add a note to the invitation explaining the invited individual may bring a guest. If you know the name of the guest, list both names on the outer envelope on separate lines or send the additional guest a separate invitation.
References
Writer Bio
Amy Jorgensen has ghostwritten more than 100 articles and books on raising and training animals. She is also an amateur dog trainer. She has also written more than 200 blog posts, articles, and ebooks on wedding and party planning on behalf of professionals in the field.
Photo Credits
Yildizbasoglu/iStock/Getty Images