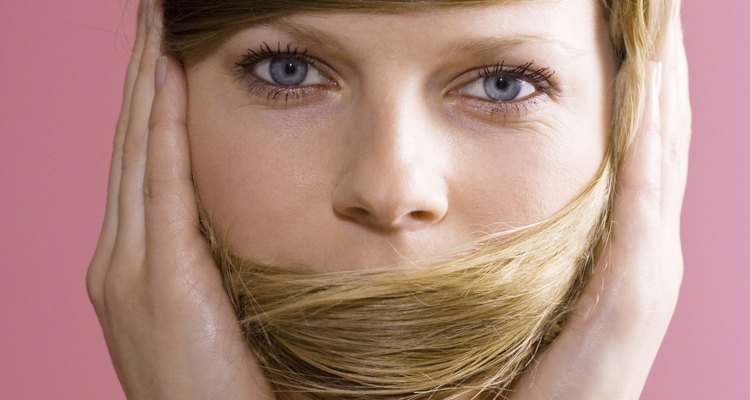 Jupiterimages/Pixland/Getty Images
When you find a stylist that does your hair in just the right way, you might be inclined to stick with her. However, if your stylist does an awful job and completely botches up your hair, you may feel as though you have no recourse. However, in addition to filing a complaint with the salon's management staff, there are other things you can do to complain about your poor service.
Ask to speak with the salon management. Explain to the manager what happened and why you are unhappy with the stylist. If you want a specific action, such as get a refund, make your request and explain why you feel your request is justified and why it should be honored. Notate the conversation; should you feel the need to take it to the next level and file an official complaint to the Better Business Bureau (BBB) or the Department of Business Regulation, you can demonstrate that you tried first to resolve the matter at the source.
Register a complaint with the BBB. While this may not "get" you anything in return per se, it will reflect poorly on the stylist and the salon as a whole. People often look up new businesses on the BBB website before they take advantage of their services, so this complaint serves as a consumer warning against the stylist and the salon.
Lodge a complaint with your state's Department of Business Regulation or Office of Consumer Affairs. This is the licensing body for stylists and other salon and personal care professionals. If the issue is more than just a bad haircut, for example, the stylist in question maimed you during a styling session or failed to sanitize materials before using them, then you have grounds to make this kind of official complaint. Complaint forms are generally available on the agency's website; you can either file your complaint electronically or via traditional mail. Depending on the policy of the agency, you may or may not receive a response regarding the complaint.
Provide specific details. It is not enough to say, "My stylist wasn't sanitary" or "My stylist cut me while styling." To merit the agency's attention, you must report a serious infraction with complete details of the incident; in other words, the BBB or Office of Consumer Affairs is not likely to get involved because you feel your stylist cut your hair too short. Provide time, date, name of the stylist and a specific accounting of what happened during your visit. Notate what you said to the stylist and how the salon management responded to the incident.
References
Writer Bio
Lynda Moultry Belcher is a writer, editor and public relations professional. She worked for a daily newspaper for 10 years and has been a freelance writer for more than 15 years. She has contributed to Divorce360 and Revolution Health Group, among other publications. She is also the author of "101 Plus-Size Women's Clothing Tips" and writes "Style At Any Size," a bi-weekly newspaper column.
Photo Credits
Jupiterimages/Pixland/Getty Images