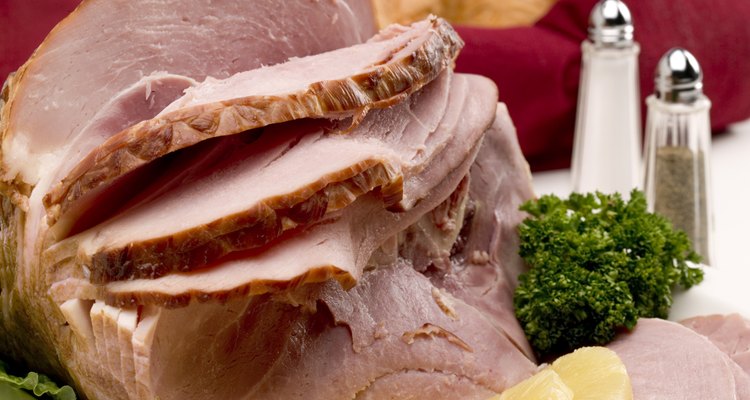 Jupiterimages/liquidlibrary/Getty Images
While ham is delicious on its own, many people's fondness for it relates to the garnishes with which it is served. The basic flavors that combine to form the taste of ham involve salt, a buttery fattiness and smoke. Garnishes, glazes and trimmings balance ham flavors with sweet, tart and spicy elements, making your ham delicious from first to last bite.
Fruit Garnishes
The salty, fatty qualities of ham balance well with tart and sweet fruits. A glaze combining chopped or sliced fruit, a tart juice and some sugar or honey might combine pineapple, apricots, peaches or plums; orange, lemon or lime juice, brown or white sugar and a pungent seasoning like traditional cloves, ginger or star anise. Poaching fruit in a sweet, spicy syrup creates a glazing syrup and decorative garnish in a single skillet -- baste ham with the syrup, then add fruit for the last 30 minutes of cooking. This expands the fruit choices to those that become too soft for garnishing with prolonged cooking. Mangoes, pears and even lightly poached papaya slices can be fanned over the top for variety. The only caution with sweet glazes is moderation, lest they overwhelm the complex of meat flavors.
Spicy Garnishes
Both fruits and vegetables can play a part in spicy ham garnishes, which are mustard- or vinegar-based. The juice from sliced onions, red peppers and apples simmered in a reduced balsamic vinegar, seasoned with brown sugar and a dash of curry powder can be used as a glaze, with spoonfuls of this simple homemade chutney garnishing each portion. Add further sweetness with a handful of dried cranberries or golden raisins. Equal parts of coarse-ground mustard and fruit juice can serve as both a basting liquid and a simmering sauce for coarsely chopped onion, carrot, celery, cauliflower or beet. Increase the tartness and pungency of this homemade mustard-pickle with wine vinegar, whole mustard seed, red pepper flakes and a touch of ground allspice.
Ham Steak
Often fully cooked, a ham slice or steak makes a quick, tasty meal with brief warming. Keep garnishes equally quick. Surround a broiled ham steak with slices of jellied cranberry sauce, alternating with peeled orange or grapefruit slices. Combine mango chunks, diced tomatoes, chopped green bell or jalapeno peppers and sliced scallions for a quick salsa fresca, seasoning it with dashes of chili powder, hot sauce and wine vinegar. Add a generous amount of chopped fresh cilantro.
Cold Ham
A cold ham can greatly simplify a buffet meal or large picnic, provided it is already sliced. Roasted plain, it can be covered with a simple chaud-froid by mixing mayonnaise, sour cream and a little softened, unflavored gelatin. Cover the resulting surface with overlapping rows of cucumber slices, sprinkled with fresh dill. Additional cucumber cups can hold mustard-mayonnaise. Cherry tomatoes hollowed and filled with pesto, butter lettuce leaves and deviled egg halves are garnishes that need only bread or crackers to turn cold ham into a complete lunch.
Fresh Ham
Fresh ham offers the abundant servings, fine-grained meat and easy preparation of its smokehouse cousin. Glaze and garnish fresh ham as you would any pork roast. A coating of mustard, garlic, black pepper, lemon juice and fresh or dried rosemary makes savory pan juices, and a ring of watercress or arugula leaves, cherry tomatoes and canned, drained artichoke hearts provides the makings of a tasty warm salad.
References
Writer Bio
Janet Beal has written for various websites, covering a variety of topics, including gardening, home, child development and cultural issues. Her work has appeared on early childhood education and consumer education websites. She has a Bachelor of Arts in English from Harvard University and a Master of Science in early childhood education from the College of New Rochelle.
Photo Credits
Jupiterimages/liquidlibrary/Getty Images