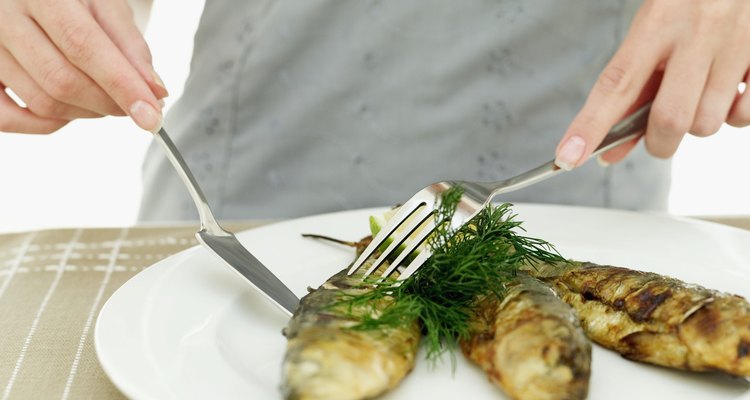 Stockbyte/Stockbyte/Getty Images
A mild, white-fleshed fish that stars in a number of dishes because of its firm texture, whiting is a particular standout when fried. Achieve a crisp coating when frying whiting using some classic flour alternatives or simply fry seasoned fillets for a low-carb option. Pair fried whiting with rice and a salad and enjoy a light meal.
Cornmeal-Fried Whiting
One of the simplest ways to fry whiting is to season it with salt, pepper, dredge it in cornmeal and deep fry or pan fry the fish. While a mixture of flour and cornmeal is often used when frying fish, you can also fry it in cornmeal alone. Use a finely ground cornmeal for the best coverage. Create an extra thick and crunchy exterior by dipping the fish in milk or beaten eggs before dredging the fillets in cornmeal.
Starch Coatings for Frying
Cornstarch and potato starch are two Asian-influenced alternatives that create a golden and crisp coating on fried whiting without the use of flour. Season whiting fillets generously before dredging them in one of these starches; shake off excess starch before frying. For an extra-thick coating, dip the dredged fish in water, egg or milk and re-dredge it again to add more coating. Deep fry or pan fry the fish until the fillets are golden and cooked through.
Bread Crumbs for Coating
Another alternative to dredging whiting in flour is to roll the fish in bread crumbs and pan fry it. This alternative requires only a binding agent to adhere the bread crumbs to the fish. Use milk or beaten egg, dipping the seasoned whiting in it before rolling it in bread crumbs to coat it. Shake off excess bread crumbs and pan fry the whiting until it is crisp and cooked through. Use Italian-seasoned, panko or plain bread crumbs seasoned with your favorite spices to add flavor to your fried whiting.
Fish Frying Tips
For both pan frying and deep frying, always use oil that has been heated to between 325 and 350 degrees Fahrenheit. This temperature allows for the quick cooking of the fish and prevents it from soaking up too much oil that can render the fish soggy or overly greasy. Cook whiting for about 5 minutes, until the internal temperature registers at 158 F using an instant-read thermometer. Do not allow oil to smoke at any point during the cooking process; use an oil with a high-smoking point such as canola, vegetable or coconut oil for frying. After frying fish, always remove it promptly when it is complete and drain it on paper towels to remove excess oil.
References
Writer Bio
Based in Portland, Ore., Maxine Wallace is a writer with more than 12 years of experience. With a bachelor's degree in journalism and experience working on marketing campaigns for large media agencies, she is well-versed in multiple industries including the Internet, cooking, gardening, health, fitness, travel and holistic living.
Photo Credits
Stockbyte/Stockbyte/Getty Images