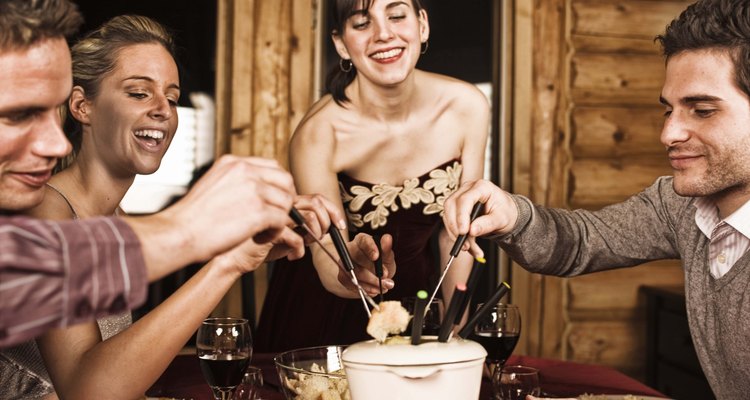 Jupiterimages/Stockbyte/Getty Images
Cheese fondue is a crowd-pleasing dish even in its simplest form, but you can turn it into a more well-rounded and creative meal by venturing beyond the typical French bread accompaniment. Classic cheese fondue, consisting of Swiss cheeses melted with white wine, is compatible with a wide variety of breads, vegetables, fruits, pickles and meats.
Bold Breads
Cubes of crusty French bread are the most traditional items dipped in cheese fondue, but other varieties of bread work well, too. Stick to sturdy breads that can hold up well in the hot cheese, such as sourdough, focaccia or pumpernickel bread. Breadsticks and pretzels are also good for dipping, and require no extra prep work, since they can be served whole.
Cooked Vegetables
Small potatoes and artichoke hearts pair well with cheese fondue, but they must be cooked first. Steam or boil them until fork tender. Broccoli and cauliflower florets, asparagus spears, and green beans are best blanched -- cooked briefly -- to reduce bitterness and enhance the texture. Cook them for about a minute in boiling salted water, and then immediately chill them in ice water. Dry the vegetables completely before serving them with fondue.
Raw Vegetables
Not all vegetables should be cooked for cheese fondue. Tender vegetables like fennel, sweet peppers, and cherry or grape tomatoes are best served raw so that they are sturdy enough to spear and dip. Cut the fennel and peppers into bite-size pieces, and leave the tomatoes whole. The mild anise flavor of the fennel is particularly suitable for fondues made from Gruyere cheese.
Raw Fruit
Fruit is no stranger to cheese plates, and it is equally indispensable to cheese fondue. Its refreshingly sweet and tart flavors bring out the salty, nutty qualities of the cheese. Crisp apples complement a wide range of cheeses, but slice them just before serving to avoid browning. Whole fresh figs or seedless grapes are also good options. Avoid fruits that are extremely juicy or soft, since they are prone to falling apart in the fondue.
Petite Pickles
Small pickles, such as gherkins or cornichons, are standard additions to melted Swiss cheese in a version of fondue called "raclette," and you can also use them to dip into a classic cheese fondue. Olives and pickled pearl onions are other bite-size briny items that stand up nicely to the richness of the cheesy fondue.
Cooked Meat
At fondue parties, meat is often relegated to fondue bourguignonne, a variation that cooks meat in a pot of oil, but cooked and cured meats are perfect for cheese fondue. Play off of the classic ham and cheese combination by serving cubes of country-style ham or thin slices of prosciutto rolled into cigar shapes for easy spearing and dipping. For pork-free options, serve chunks of boneless chicken or beef.
References
The Deluxe Food Lover's Companion; Sharon Tyler Herbst and Ron Herbst
Larousse Gastronomique; Librairie Larousse
The Flavor Bible; Karen Page and Andrew Dornenburg
Writer Bio
Lindsay Lau is a food writer and recipe developer with experience cooking professionally at both restaurants and catered events. As a graduate of the Natural Gourmet Institute in New York, Lau specializes in healthy cooking techniques.
Photo Credits
Jupiterimages/Stockbyte/Getty Images