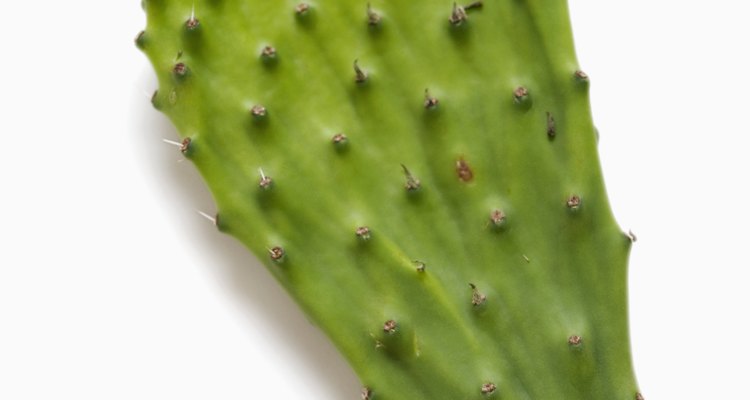 Jack Hollingsworth/Photodisc/Getty Images
Not nearly as intimidating to cook as they appear, prickly pear cactus pads boast a mellow crispness that is similar to green beans and green bell peppers. For dishes such as fajitas, the cactus pads -- known as nopales -- are traditionally cut into strips about the same size as the peppers and onions. A sizzling cast-iron skillet heaped with stir-fried vegetables and grilled meat is the usual presentation for fajitas. Alternatively, create a completely vegetarian fajita.
Remove the inedible, sharp parts of the nopale while wearing gloves. Slice around the perimeter of the nopale cactus pad to cut away the fibrous edges, making sure to chop off the pad's dry base. Use a swivel peeler, if you have one, to pop out the spines, much as you would a potato eye.
Scrub the nopale with a vegetable brush under running water. This will not only clean it, but get rid of any remaining spines.
Pat the nopale dry. Slice the pad into strips about 1/2-inch wide and 6 inches long.
Slice onions and bell peppers in amounts that are roughly in proportion to the amount of nopale strips.
Heat a spoonful of oil in a skillet that is set over medium-high heat on the stovetop or a preheated grill.
Add the nopales and other vegetables to the pan at the same time. Stir frequently for about 4 to 5 minutes, until the vegetable reach the tender-crisp stage.
Put the grilled meat in the pan, if using, and heat the meat strips briefly with the nopale mixture.
Set the skillet directly on the table, along with a platter of warm tortillas and toppings, such as pico de gallo, salsa, guacamole, sour cream and grated cheese.
References
Writer Bio
Ellen Douglas has written on food, gardening, education and the arts since 1992. Douglas has worked as a staff reporter for the Lakeville Journal newspaper group. Previously, she served as a communication specialist in the nonprofit field. She received her Bachelor of Arts from the University of Connecticut.
Photo Credits
Jack Hollingsworth/Photodisc/Getty Images