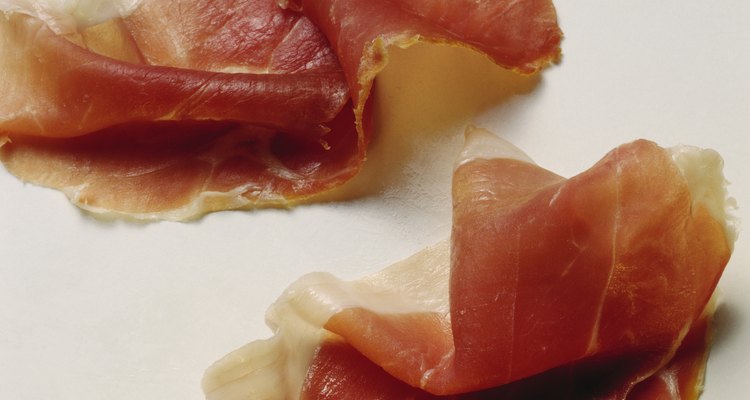 Eising/Photodisc/Getty Images
Speck Italian ham cooks like bacon and tastes like prosciutto -- a winning combination when you need fat for sauteing or a quick, meaty addition for a pizza, soup or salad. Equal parts lean meat and creamy fat, speck boasts an intense ruby color that comes from light smoking, and a complex, polished flavor owed to a thin layer of mold that grows on it while it ages in the Alps. Speck is cooked and its fat rendered almost as much as it's eaten cold, as it adds creaminess and a mild saltiness to any dish you use it in.
Cooking Hand-Cut Speck
Step 1
Rim the thin layer of mold from the speck with a kitchen knife and slice the meat into lardons, or cubes.
Lardons measure about 1 inch long and 1/4 inch wide, the best size for rendering and crisping. Cut cubes that measure 1/4 to 1/2 inch in width, so each piece renders and crisps quickly.
Step 2
Blanch the cubes or lardons in boiling water for 30 seconds if you want to remove some of the saltiness, since it concentrates during cooking. Drain the pieces in a colander after 30 seconds of blanching, then transfer them to a bowl of ice water to cool down. Drain the pieces on paper towels.
Step 3
Heat a pan on the stove over low heat and add the speck. Cook the speck until its fat starts rendering out, about 5 minutes.
Step 4
Increase the heat to medium. Cook the speck until it crisps and all the fat renders out, about 5 to 10 more minutes depending on the size of the pieces. Stir the pieces frequently while cooking.
Step 5
Transfer the meat to a plate lined with paper towels. If desired, use the fat in the pan to saute a mirepoix -- a mixture of onion, celery and carrots -- and other ingredients to make a soup or sauce. You can also add flour, in equal proportion to the fat, to make a roux, and add stock to make the base for a soup or sauce.
Step 6
Stir the cubes or lardons into the soup or sauce during the last few minutes of cooking. You can also add them to the dish as a garnish, if desired.
Cooking Pre-Sliced Speck
Step 1
Heat the oven to 350 degrees Fahrenheit.
Step 2
Lay the speck slices side-by-side on a sheet of rimmed baking sheet lined with parchment paper.
Step 3
Cook the speck for 15 to 20 minutes, or until the meat shrinks slightly and darkens and the fat develops a golden-brown color.
Step 4
Drain off the fat and reserve for another use. Place the speck slices on a plate lined with paper towels until they crisp up, about 5 minutes.
Step 5
Add the cooked speck slices to sandwiches, or roughly chop them and add the crumbles to pasta, salads, soups, pizza or any dish that calls for crisp and crumbled bacon.
References
Tips
Mix speck lardons into dough and bake the bread as usual for a chewy, flavorful garnish.
Writer Bio
A.J. Andrews' work has appeared in Food and Wine, Fricote and "BBC Good Food." He lives in Europe where he bakes with wild yeast, milks goats for cheese and prepares for the Court of Master Sommeliers level II exam. Andrews received formal training at Le Cordon Bleu.
Photo Credits
Eising/Photodisc/Getty Images